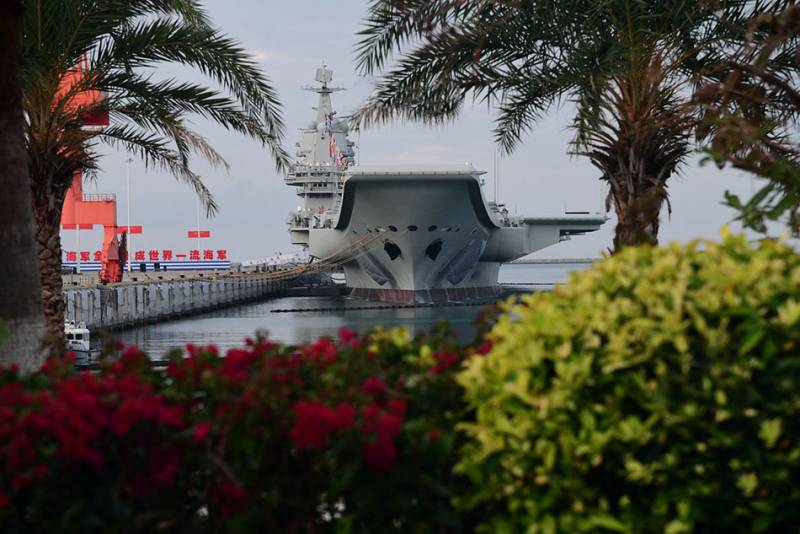 Euphoria reigns in the Chinese media over the commissioning of the latest Shandong aircraft carrier. This is the first aircraft carrier that was built in China. Recall that the PRC plans to build five more such aircraft carriers for the needs of the PLA Navy, and two of them, if you believe the messages have already been laid. Type002 is built on the same project as the Shandong Type001, but Type003 will already have a flat deck.
After numerous reports on the introduction of the Shandong aircraft carrier, Chinese experts intensified, some of whom made very high-profile statements. In particular, there were judgments that the technological gap between China and the USA in the field of shipbuilding had disappeared. The essence of these statements is as follows:
If China built its own aircraft carrier, then it actually caught up with the United States in terms of technology in the development and creation of ships for the naval forces.
However, such statements have been criticized by those in China who have a certain relationship with the shipbuilding industry.
Chinese expert Zhang Zhaozhong:
Those who talk about the disappearance of the US technological gap from China and the "reduction" in the number of ships are, unfortunately, far from the truth. The gap is still very large. The United States has 12 aircraft carriers, China - 2. They have worked out many of their technologies in the creation of these ships. We are only at the initial stage of this journey.
The expert makes it clear that he does not share hat-making relationship with respect to shipbuilding:
By 2030, at best, we will have 6 aircraft carriers. Moreover, we do not yet have fifth-generation carrier-based fighters. The USA has various modifications of F-35 fighters.
The expert notes that, in his opinion, not one country in the world will be able to catch up with the USA in the current century in the number of aircraft-carrying ships. True, Zhang Zhaozhong ignored further plans (after 2030) of the Chinese naval forces to equip aircraft carriers.