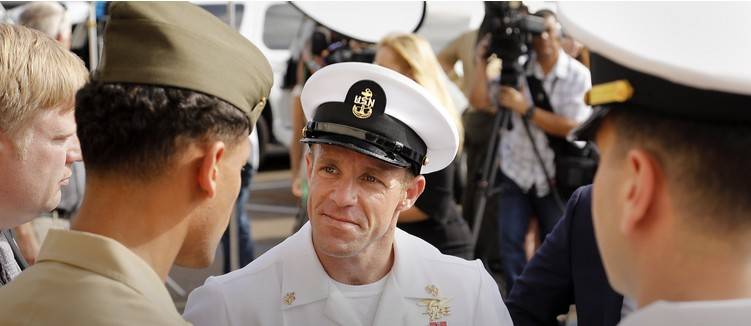 According to Edward Gallagher's former subordinates, this former US Navy officer could have committed war crimes in Iraq. And this man has recently been "pardoned by Donald Trump," the Polish publication wiadomosci.onet.pl notes. Meanwhile, The New York Times reporters recorded video of testimony of servicemen who claim that E. Gallagher "was ready to kill everything that moved."
The witnesses "seals," as the New York Times points out, looked clearly upset: they clasped their hands, fidgeted in chairs, and even "fell silent in the middle of the phrase and cried."
Video recordings of interviews received by American journalists were not previously shown publicly. These notes became part of an investigation into the U.S. Navy, specifically relating to the prosecution of U.S. Navy special forces commander Edward Gallagher, accused of war crimes, including murder.
"We can say that he was ready to kill everything that moved."
This comprehensive description was given to him by the doctor Corey Scott. This characteristic of Gallagher and others similar to her, clearly contrast with the opinion of Donald Trump, who during a recent political rally in Florida called him "a great warrior."
Gallagher's subordinates from his platoon reported that they saw him shooting at civilians and delivering a mortal blow to a wounded prisoner with a hunting knife. The video from the SEAL helmet camera, contained in the evidence, shows a prisoner - a teenager from the "Islamic State" (prohibited in the Russian Federation), who is on the verge of blackout. Then the helmet camera turns off. Witnesses claimed that Gallagher delivered a "causeless" blow to the captive. "This is the most shameful thing I've seen in my life," said one of the "seals". He added that when he was ordered to gather at the corpse for a photo shoot, he had a feeling that you can't refuse ...
In turn, Gallagher's lawyer, Timothy Parlatore, claims that the video interviews were rife with discrepancies and lies, which opened up a "clear path to justification."
Gallagher himself said that charges against him were brought forward by six dissatisfied "cats" that did not meet his personal high standards. "My first reaction to watching these videos was the surprise and disgust that the obvious lies about me," Gallagher told The New York Times.
Seven members of the platoon (22 in total in this platoon) showed during the court hearings that they had seen the commander commit war crimes. Two testified that they did not see any evidence of the crime. Others refused to cooperate with the prosecutor's office.
The one who blamed his immediate commander during the investigation changed his testimony. The three who had previously testified in court later left naval service. Other seals still work in SEAL teams, and in some cases also work on secret missions.
E. Gallagher left the fleet at the end of November 2019.A few days after his retirement, he posted a photo of his ax on his Instagram profile (a joint account between him and his wife). Gallagher said he hopes to "pierce someone's skull with this ax."
Earlier, we recall that President Trump encouraged Mr. Gallagher with various Twitter posts. For example, the president congratulated this man on an acquittal in court. In addition, he promised before the court that he would not allow Gallagher to be excluded from the seals.
Gallagher himself later thanked D. Trump through Instagram. According to Gallagher, the "true blessing" for the American nation is the commander in chief, protecting his "warriors".