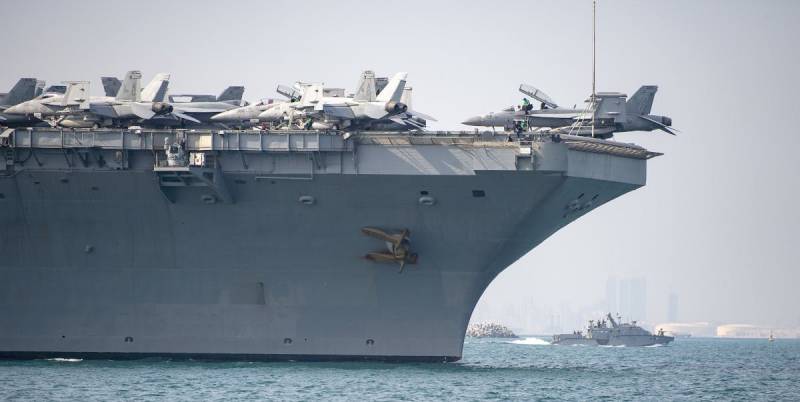 The U.S. Navy confirmed that in the Strait of Hormuz in early December 2019, eighteen Iranian small ships (the "Iranian swarm") were sailing alongside the American aircraft carrier group. This is evidenced by published satellite data.
The US Navy (US Navy) confirmed that "several" small Iranian ships passed near the aircraft carrier group when it was heading through the Strait of Hormuz to the Gulf of Oman, but denied reports that any of the Iranian ships pursued or provoked warships by another way. The actions of the Iranian naval forces were described as measures taken in the framework of "normal behavior".
"During the passage through the strait, several Iranian vessels followed American ships," said Navy Center Public Relations Officer (NAVCENT) Joshua Frey of the US Navy in an email. - Their actions fit into the framework of a normal reaction for Iran and did not threaten the Abe strike group [aircraft carrier Avraam Lincoln].
Yet eighteen small ships passing in the immediate vicinity of the Lincoln and the accompanying group, The Drive believes, recall the risks inherent in each passage of the strait. "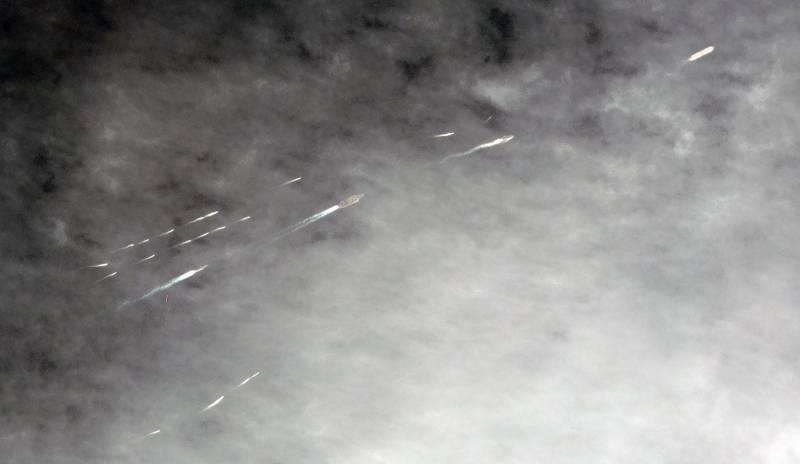 In satellite image published
The Drive
, you can see 18 small ships sailing alongside the American Abraham Lincoln and accompanying ships in the Strait of Hormuz on December 4, 2019. Photo: Planet Labs Inc.
December 4, 2019 (the publication provides dates for Eastern Standard Time) PlanetScope satellite, owned by a private company Planet Labs, captured the Lincoln in the Strait of Hormuz. The image was distributed on social networks, which led to serious disputes in the intelligence community, and to open disputes. Some media outlets, including Iranian ones, picked up the message that the IRGC ships "pursued" or at least "escorted" the US Navy carrier group, and that was a "successful success" challenge to the United States amid a new surge of tension between two states.
Now this discussion has ended.
Commander Frey categorically denies Iranian boats committing any provocative maneuvers against an aircraft carrier or its escort ships. No one interfered with the transition of the group to the Gulf of Oman. The interaction between the US and Iranian courts was limited to ordinary requests, Frey explained.
US Navy warships are "always ready to defend themselves," said a NAVCENT spokesman. According to him, the US Navy always has an increased readiness, "working" near Iran. And this is especially true "in the light of recent provocative, irresponsible and illegal actions in the maritime sphere".
It is curious that a similar incident, which caused similar hype, already took place in the Strait of Hormuz. In September 2018, the strait passed aircraft carrier Theodore Roosevelt with an escort. Then the Iranian state media released a video allegedly showing how Iranian boats "intrusively" pursue the aircraft carrier group. However, the US Navy did not respond to these statements.