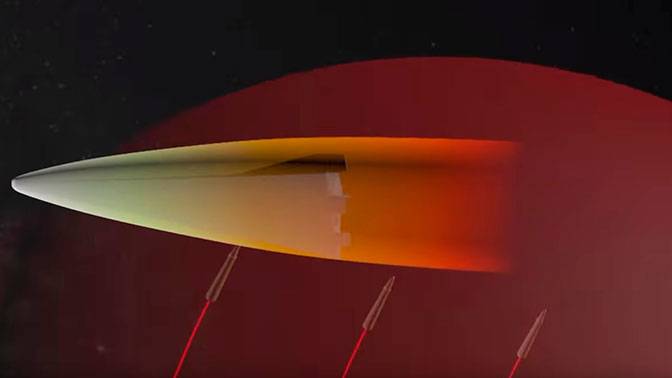 The United States is concerned not only with catching up with Russia (or even China) in the field of hypersonic missiles and maneuvering and planning winged warheads, but also with the task of defense against such systems.
How to solve an unsolvable problem?
The United States Missile Defense Agency (MDA) held a recently closed meeting with representatives of the defense industry at its headquarters in Alabama to discuss ideas for dealing with virtually invulnerable hypersonic targets.
At a closed meeting, the fundamentals of the program were described, which they called the "Regional defense system from hypersonic gliders" (as the Americans call maneuvering combat units (MBB), guided combat units (UBB) and planning winged units (PKB), such as our 15Y71, adopted into service and entered into combat duty as part of the Avangard DBK with ICBMs 15A35-71).
Although the details about the program were scarce, its name may provide some clues. Tom Karako, director of the missile defense project at CSIS (Center for Strategic and International Studies, another think tank nonprofit center) said that "they (the United States Defense Ministry - Author) are planning to build only a regional defense system against such weapons, not a national one."
The fact is that existing and promising American missile attack warning systems (SPRN, although it is customary to call the American system SPRNU), space-based PCBs are practically not detected. And this goal is not available for over-the-horizon SPRN radars: PCBs fly at altitudes like 60-80 km and appear in the detection zone of such radars even when it's not too late to drink mineral water when it's damaged health, but you can even read "Our Father" and do not have time. Therefore, Americans are thinking about building at least a regional system. And, probably, not from intercontinental systems with an average speed of the same 71st more than 20M, but when up to 27M. And from simpler systems, at the regional level - the speeds there are completely different, and the ability to maneuver in course and altitude is also radically lower, and "gliding jumps" or, if you want, "pebbles jumping in water" from the Earth's atmosphere are also unavailable - speeds will not be enough.
But even a hypersonic anti-ship missile with a speed of 5M or more is an extremely inconvenient goal for the Pentagon, the task of defeating which is not yet solved by the means available to the Americans. For them and with supersonic anti-ship missiles, everything is very complicated so far, although there is some result. And with hypersonic everything is very bad, but in the USA they understand that this
weapon
not only against ships, but also on the national territory of the United States may well be used. "At decision centers," as the Russian president put it.
Michael Griffin, the notorious missile defense agency chief, a well-known master of "budget utilization" on everything from space to missile defense, said the following earlier:
If war starts tomorrow, we probably will not and cannot destroy hypersonic missiles and glider gliders.
Excuse me, Mr. Griffin, and if the war starts in 3-4 years, can you? And in 10 years? And what about protection from conventional warheads (BB) of ICBMs and SLBMs, have you already solved this problem?
"We have no protection that could save if such a weapon were used against us,"
Said General John Haiten, the then Pentagon Strategic Command Commander, in the Senate Armed Forces Committee in March 2018.
Heiten was recently appointed deputy chairman of the Joint Chiefs of Staff (USNSC), which is good on the one hand - he is a very adequate person, on the other - he began to promote such programs.
Collection of concepts and suggestions
In September, the MDA narrowed the list of potential applicants for participation in the program to create the above system. They turned out to be, as usual, Lockheed Martin with their Valkyrie Interceptor Terminal Hypersonic Defense concept, Boeing with Hypervelocity Interceptor (HYVINT) Concept for Hypersonic Weapons, Raytheon with SM3-HAWK missile defense, and Raytheon's idea for non-kinetic weapons. Some of our media outlets hastened to burst into headlines and texts like "Zircon", they beat the "Valkyrie" and pearls of the type:
Over eight months, more than $ 13 million will be spent, and under the terms of the contract, a next-generation anti-missile defense system must be created that can intercept hypersonic missiles and provide effective containment of the main rivals that America and Russia consider China.
Of course, no one whips anyone, no one gives birth to anything in 8 months, doesn't create and test anything, all the more for such a penny - this is only an early stage in the advancement of concepts. Before at least some embodiment in the prototype years will pass, and very long. And it is very likely that the sense of these projects will be like a goat with milk. They will open, as usual, a new tender and all will go on a new one. On the other hand, DARPA, which puts forward the concept of Glide Breaker, is sawing a budget pie to combat what it is unlikely to be able to fight.
Griffin also said that the creation of a low-orbit space tracking constellation aimed at low-flying hypersonic cruise missiles and PCBs is a top priority. He stated something, but it would be worth recalling how the epic of the same Missile Defense Agency for creating the STSS low-orbit space system ended up with, which faced complex, but much simpler tasks than indicated. But nothing came of STSS as a key component of the US missile defense system. Shortly before her inglorious death, it was renamed PTSS, simplifying the task, but the truncated program also "did not take off." Recently, by the way, they decided to exhume the body of PTSS, obviously, they want to try once again to push through a non-working concept. And now, suddenly, an even larger and less solvable task in principle. You can spend a lot of money - and this is important. And the result is not so, apparently, important, even if it is negative - all key figures are not interested in creating systems, but in constant work on them. Anyway, Michael Griffin gets away with everything, since the time of his art as head of NASA.
Technologies valuable for cutting, but not for business
Griffin also said the Pentagon is considering things such as directional energy weapons, such as the potential placement of EMI emitters on missile defense interceptors, "to fry the electronics of hypersonic weapons." Someone needs to fry the head, maybe wise thoughts will appear in it. It is foolish to count on the instability of the warhead for the EMP, designed to survive nuclear blocking, both high-altitude and atmospheric. Similarly, attempts to spend money on combat laser systems or proton beam accelerators and the like are unpromising. What is an ordinary BB ICBM or SLBM, that PCB lasers are not particularly afraid. In the atmosphere, the efficiency of lasers is generally extremely limited, and the units have powerful thermal protection, the BB ICBM also rotates, so it is not promising to "warm" it in principle. And the protection of such objects from powerful lasers was worked out in the USSR back in the 80s, during one of the first attempts to approach the projectile called "US strategic missile defense."
There is an idea of ​​defeating the filling of the PCB with a neutron beam from orbit, but here again the problems of detecting such objects from orbit and accurately determining their location, and protection from powerful neutron radiation was also practiced a long time ago, long before the first work on the PCB. Nevertheless, classic missiles even look more promising if you really know how to do them.
In general, Americans in this direction will have to cut weights for a long time in the hope of getting to gold.
Try to catch up!
But it is unlikely that the United States will succeed in catching up with Russia in hypersonic weapons in a reasonable foreseeable time. Because in Russia this is not the first generation of such systems that was created, just the first that entered service. In principle, had the USSR not collapsed, Albatros and a number of other similar developments would have long occupied their rightful place under the head fairings of the head parts of our ICBMs. While working on the topic of "Vanguard", it was possible to adopt not the current version of the planning winged maneuvering unit (PKB) 15YU71, but the previous one, 15Y70. And we have been working on hypersonic cruise and anti-ship missiles for a long time. And the "Vanguard" business is ending for us - after it, in the work of the Anchar-RV design bureau from MIT (it is very likely that this device will use a different principle of planning flight - motor), and a certain "promising" system, which will then be installed on "Sarmatians", and certainly not one.
As for the fight against hypersonic missiles and PCBs in Russia, then, most likely, the issue of combating PCBs is also not easy for us. But according to simulators of hypersonic missiles of the Favorit-RM type, not so long ago, the S-400 and S-300B4 SAMs were successfully shot. It is difficult to say what exactly these targets were imitated, what was the nature of their movement, and everything else, but the result was positive. Here, according to the speed that these targets created on the basis of the 5V55 SAM for the S-300, the data are available: up to about 6-7M. And for the S-500, such goals were listed as full-time, according to the terms of reference. But, of course, such a goal cannot be simple for air defense-missile defense systems a priori, even if it practically does not maneuver. Too little time allotted for her defeat.