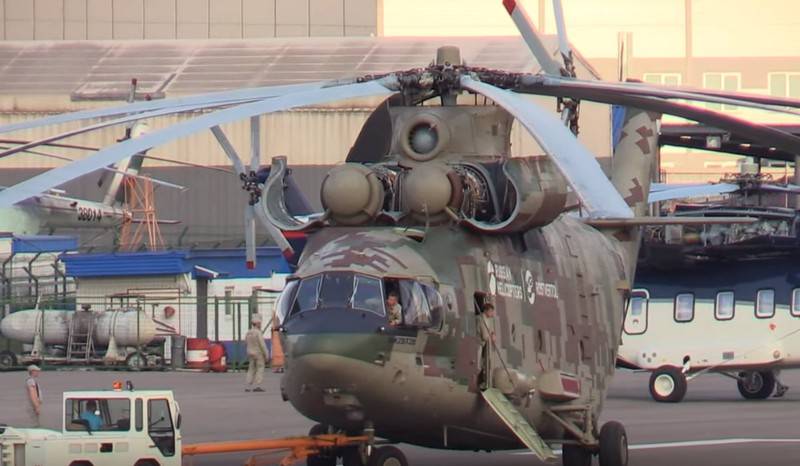 The Ministry of Defense, together with the Russian Helicopters holding, began state tests of the upgraded Mi-26T2V heavy helicopter. This was announced by the CEO of the holding Andrey Boginsky.
According to a widespread press release, state helicopter tests will last all 2020 and will be held at four training sites. A mixed crew of representatives of the holding and the Ministry of Defense will take part in the tests.
To date, the prototype Mi-26T2V has successfully completed preliminary factory tests, which allowed us to begin the program of state joint tests, which will last all 2020
- declared Boginsky.
As previously reported, the first flight of the upgraded Mi-26T2V helicopter took place in August 2018, and preliminary tests that confirmed the characteristics inherent in the machine were completed in January of this year. Serial deliveries to the armed forces are planned to begin immediately after state tests. The Ministry of Defense intends to purchase at least 10 Mi-26T2V.
The new Mi-26Т2В helicopter differs from the basic Mi-26 model by the presence of an integrated on-board radio-electronic equipment complex, which is able to automatically perform en-route flight, exit to a predetermined point, landing approach, as well as preparatory maneuvering and return to the main or alternate aerodromes. In addition, the helicopter is equipped with a digital aerobatic complex, an onboard defense complex "Vitebsk".
With a maximum take-off weight of up to 56 and a helicopter, the helicopter can lift into the air 20 and cargo, both inside the cabin and on the external sling.