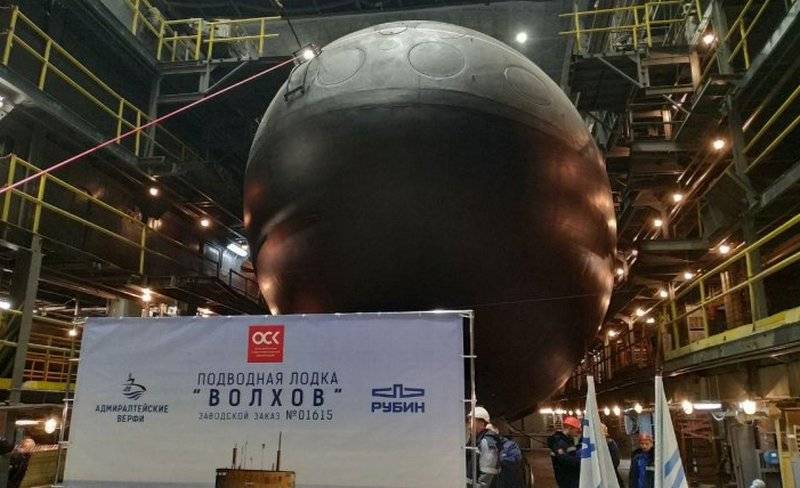 The second "Varshavyanka" for the Pacific
fleet
launched into the water. The ceremonial launch of the Volkhov diesel-electric submarine took place at the Admiralty Shipyards in St. Petersburg. This was reported by the press service of the enterprise.
Present at the ceremony, the commander of the Primorsky Flotilla of the diverse forces of the Pacific Fleet, which will include the Volkhov diesel-electric missile forces, Vladimir Yakushev thanked the workers of the enterprise.
Your work strengthens the power of the Navy (...) Crews are ready for combat use and operation of these submarines
- he said.
DEPL "Volkhov" is the second submarine of the type "Varshavyanka" in the series, which is being built for the Pacific Fleet. Laid on the same day as the head of the Petropavlovsk-Kamchatsky diesel-electric submarine - July 28, 2017. The lead submarine for the Pacific Fleet has already been accepted into the Russian Navy after passing state tests and in early 2020 will be transferred to the place of service.
The contract for the construction of a series of six "Varshavyanka" for the Pacific Fleet was signed by the Ministry of Defense of the Russian Federation and the "Admiralty Shipyards" in September 2016. DEPLs belong to the third generation of diesel-electric submarines. As previously reported by the Ministry of Defense, some changes were made to the design of submarines to improve their tactical and technical data.
The length of the submarine is 73 meters, width - 10 meters, the maximum immersion depth - 300 meters, underwater speed - 20 knots, autonomy - 45 days. Crew - 52 person. The submarines are armed with six 533 mm caliber torpedo tubes, mines and Caliber rocket launchers.