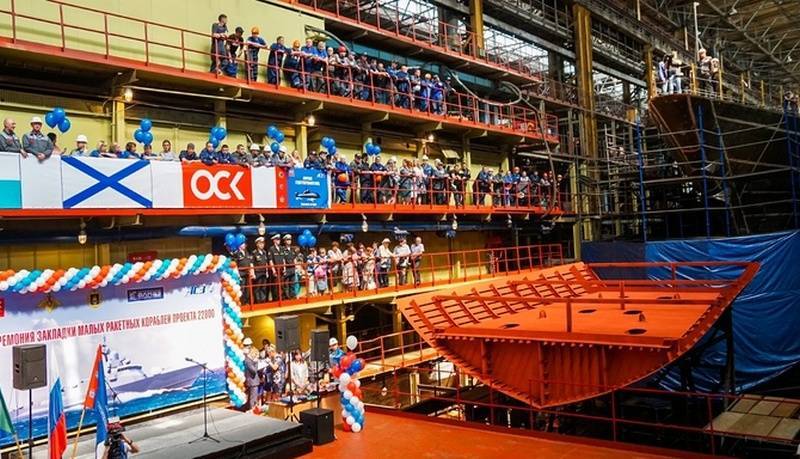 The ceremony of laying the first two RTOs for the Pacific Fleet. 01.07.2019/XNUMX/XNUMX g
In Komsomolsk-on-Amur, the third Pacific Rocket Project 22800 small missile ship of Karakurt was laid. The ceremony of laying the MRK, named "Ussuriysk", was held at the Amur Shipyard. This was reported by the press service of the Pacific
fleet
.
At the Amur Shipyard for the Pacific Fleet, the third small missile ship was laid down - the Caliber-NK missile launcher (...) The Pacific Fleet was represented at the ceremony by Rear Fleet Deputy Commander-in-Chief Arms Igor Korolev
- said in a statement.
The ship was laid down under the contract concluded by the Ministry of Defense on August 22, 2018 for the construction of six small missile ships for the Pacific Fleet. The agreement provides for the construction of four RTOs in the Amur Shipyard and two more at the Eastern Shipyard in Vladivostok. The last RTO of the Amur series should be commissioned in 2025, Vladivostok - in 2022.
The first two RTOs of the "Pacific Series" - "Rzhev" and "Udomlya" were laid on July 1 of this year.
The 22800 small rocket ships are the Russian series of multi-purpose rocket and artillery ships of the near-sea zone (small corvettes). The main purpose of the ISCs is to conduct combat operations in the near-sea zone and perform tasks independently and as part of ship groups.
The RTOs of this project have a length of 67 meters, a width of 11 meters and a draft of 4 meters. Displacement - about 800 tons, cruising range - up to 2500 miles, autonomy - 15 days. The main armament is one PU UKKS (universal ship complex) 3С14 RK Caliber, one 76-mm artillery system AK-176MA, CRAK Pantsir-M, two 14.5-mm or 12,7-mm machine guns MTPU.