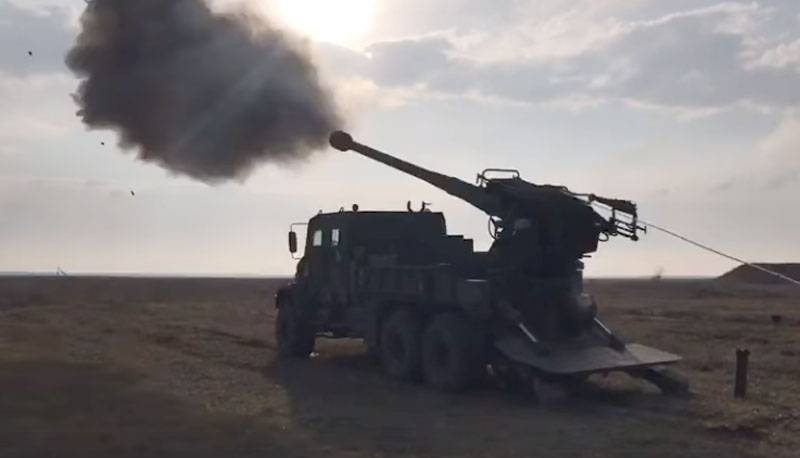 It is reported that in Ukraine tests of self-propelled howitzers "Bogdan". This is a self-propelled artillery mount with a 155 mm caliber gun.
Tests of the self-propelled howitzer "Bogdan" were held at a training ground in the Dnipropetrovsk region. At the "zero" stage of the tests, self-propelled
weapon
checked by hydraulic shots (hydraulic bombardment).
After that, the tests used the so-called inert ammunition, then switched to testing the Bogdan with the help of military ones.
In Ukraine, they immediately decided to focus on the fact that the self-propelled gun mount "Bogdan" "meets NATO standards." This refers to the caliber of self-propelled guns.
It is alleged that during the tests, the capabilities of self-propelled guns to fire at a rate of up to 6 rounds per minute were confirmed.
The maximum range when firing with an active rocket is 60 km.
It should be noted that "Bogdana" is a joint development of the company "Ukrainian armored vehicles" and KZTS (Kramatorsk Heavy Machine Tool Plant). The chassis for the howitzer is the KrAZ-63221 automobile platform with a 6x6 wheel formula. In this case, the car cabin is booked. A container with 20 ammunition is transported on the same chassis.
The howitzer is equipped with an ASN (automatic guidance system) on the Siemens SIPLUS and SIMATIC HM controllers.
The test was carried out with the execution of shots without the presence of people in the cabin of a self-propelled gun.