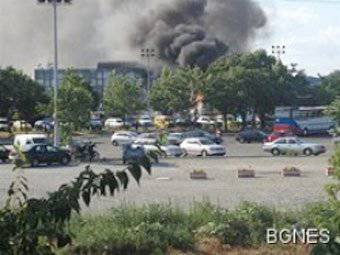 Three people were killed in the explosion of a bus with Israeli tourists in Bulgaria, reports Reuters, citing the Bulgarian police. The blast occurred on the evening of July 18 near the airport of Bourgas, located on the Black Sea coast 400 kilometers east of Sofia.
Earlier, the local news agency BGNES reported five dead. According to Agence France-Presse, at least 20 people were injured. The Ministry of Internal Affairs of Bulgaria has qualified the explosion at the airport of the city of Burgas as a terrorist act, according to Interfax.
A spokesman for Israeli Prime Minister Ofir Gendelman told AFP that a bus was fired at and a bomb was thrown at him. At the same time, according to eyewitness accounts, the explosion occurred after a certain unknown person entered the bus. It is reported by the Associated Press with reference to the Israeli channel Channel 2 TV.
Sofia News Agency reports, citing local media, that there were about 40 tourists from Israel on the bus. As a result of the explosion, three buses caught fire in the parking of the Burgas airport.
According to the Bulgarian television channel bTV, the explosion occurred in 17: 30 local time. According to the deputy spokesperson for the Israeli Foreign Ministry, Ilana Stein, a flight from Israel landed at 17 at Bourgas airport. "The passengers got on the bus, after which an explosion occurred, the cause of which has not yet been established," she said.
Shortly after the explosion, the Burgas airport was closed. All flights are redirected to the city of Varna.