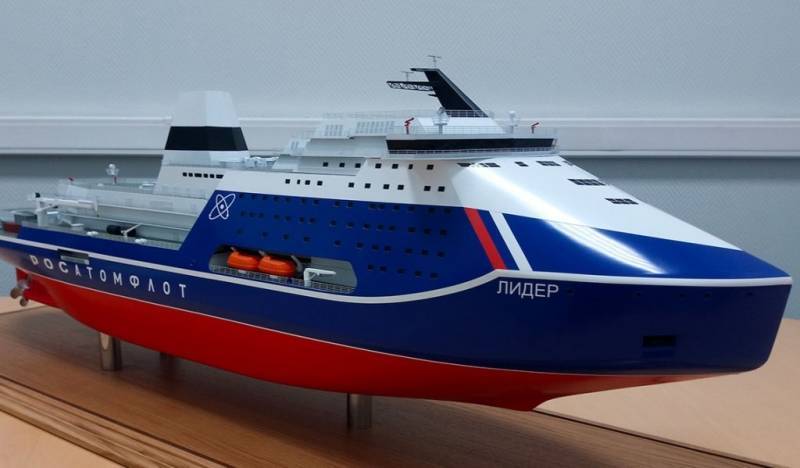 The first nuclear icebreaker of the new project 10510 "Leader" will go into operation in 2027. In total, the Rosatom corporation will receive three icebreakers of this project by 2033, Zvezda reports.
The newest Russian icebreakers of the project 10510 Leader will be designed for year-round escort of large-capacity cargo ships along the Northern Sea Route. The construction of all three vessels will be carried out at the Far Eastern shipbuilding complex Zvezda. Russian President Vladimir Putin gave his consent to determine Zvezda as the executor of the order for the construction of nuclear powered ships.
As Deputy Prime Minister Yuri Borisov said earlier, the construction of icebreakers will be carried out in cooperation with Russian shipbuilders, including the Baltic Shipyard, where universal project 22220 icebreakers are being built today. The subcontractors will manufacture individual components and assemblies. The issue of financing the construction of icebreakers has already been resolved; ships will be built at the expense of Rosneft.
It is assumed that the construction of the first icebreaker "Leader" will begin in 2020.
According to the project, the total displacement of the Leader will be 71,4 thousand tons with a length of 209 meters, a width of 47,7 meters and a height of 20,3 meters. The ship will receive two RITM-400 nuclear reactors with a capacity of 120 megawatts on propellers and a thermal capacity of 315 megawatts each.
According to estimates, the Leader icebreaker will be able to reach speeds of up to 24 knots in clean water and up to 12 knots on ice up to 2 meters thick. The maximum overcome ice thickness is 4 meters. The service life of such an icebreaker is designed for 40 years. The crew is 127 people. The autonomy of the icebreaker in terms of provisions will be 8 months.
The technical project for the atomic icebreaker of project 10510 was released in 2017, the developer is Iceberg Central Design Bureau (Petersburg).