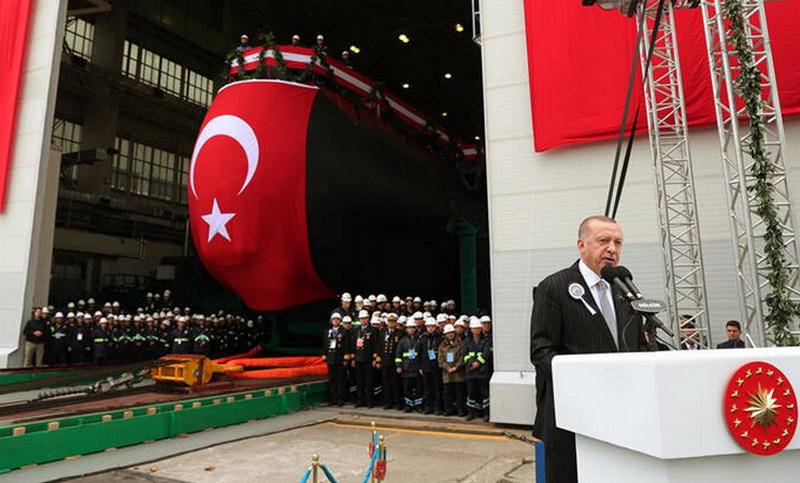 The first submarine built in accordance with the modernized German project Type-214TN was launched in Turkey. The ceremony was held at a shipyard in the city of Gölcuk in northwestern Turkey, attended by Turkish President Recep Tayyip Erdogan.
The first Turkish diesel-electric submarine was named "Piri Reis" in honor of the Turkish navigator and cartographer from the time of the Ottoman Empire. The completion of the submarine will continue afloat, its introduction into the Turkish Navy is planned in 2022. In total, by 2027 Turkey should receive six Type-214TN diesel-electric submarines.
The construction of submarines is carried out in conjunction with the largest German shipyard HDW (Howaldtswerke-Deutsche Werft), the contract was concluded in 2009. Shares in production are divided as 80/20, where most are assigned to Turkey. HDW assembles only the basic body and mechanical components and some secret components, including fuel cells and propulsion systems. All electronic components and weapons systems are manufactured and installed in Turkey.
The Type-214TN project itself was developed on the basis of the German Type-214 submarines, which are the export version of the Type-212.
The length of the submarine is 65 meters, the total underwater displacement is 1860 tons. The boats are made using stealth technologies, equipped with a combined diesel-electric / anaerobic (VNEU on fuel cells) power plant. The declared duration of being under water is more than 10 days. Speed ​​under water - up to 20 knots, above water - 12 knots. Immersion depth - up to 400 meters.
Submarines of the Type-214 project are armed with eight 533-mm torpedo tubes, and can also set minefields.
Currently, the Turkish Navy is armed with 12 diesel-electric submarines of three types: Atilay, Prevez and Gyur. All of them are built according to the German project Type 209.