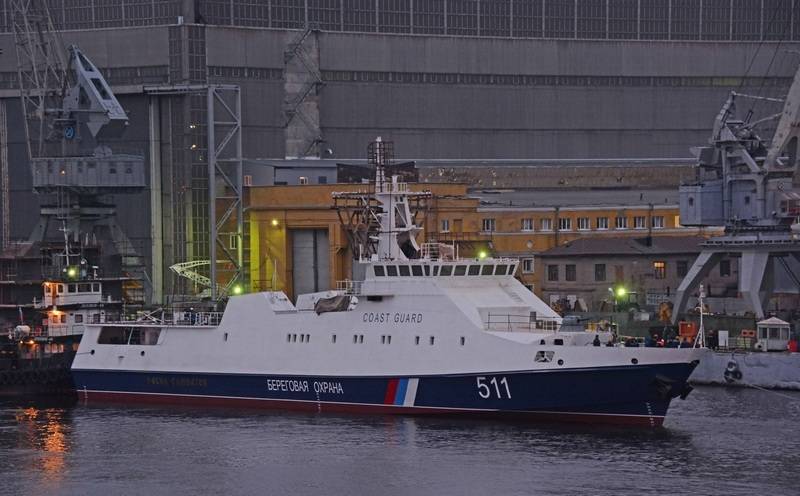 Border patrol ship "Rasul Gamzatov" project 22460
In St. Petersburg, the Rasul Gamzatov border patrol ship of project 22460 was launched. The ceremony was held on December 21 at PAO Shipbuilding Company Almaz.
PSKR "Rasul Gamzatov" is the eleventh ship of project 22460, built at the SF "Almaz" in St. Petersburg. In total, the Coast Guard of the border troops of the FSB of the Russian Federation, together with the PSKR data, will have 14 patrol ships of this project, 13 of which have already been commissioned and one (Rasul Gamzatov) is being completed. Three PSKRs were built in Vladivostok at OAO Vostochnaya Verf.
According to unofficial information, the Border Service of the FSB of Russia is not very satisfied with the characteristics of project 22460, so the ship built on Almaz will be the last in the series. Instead of the ships of project 22460, in 2016 the construction of the border patrol ships of project 10410 (code "Svetlyak") in a modernized appearance was resumed.
Ships of project 22460 are designed to protect the maritime border, territorial waters and the continental shelf, as well as for rescue operations, environmental monitoring and the elimination of the consequences of natural disasters. The armament of the ship is one 30-mm automatic six-barreled artillery mount AK-630 and two 12,7 mm machine guns. There is a platform for placing a helicopter. It is technically possible to deploy launchers of anti-ship missiles Uranus and an A-220M gun mount.
Ship displacement - 670 tons, length - 62.5 m, width - 11 m, draft - 3.3 meters, cruising speed (max) - 24,8 knots, cruising range - 3500 miles at 8 knots, autonomy - 30 days, crew - 20 people .