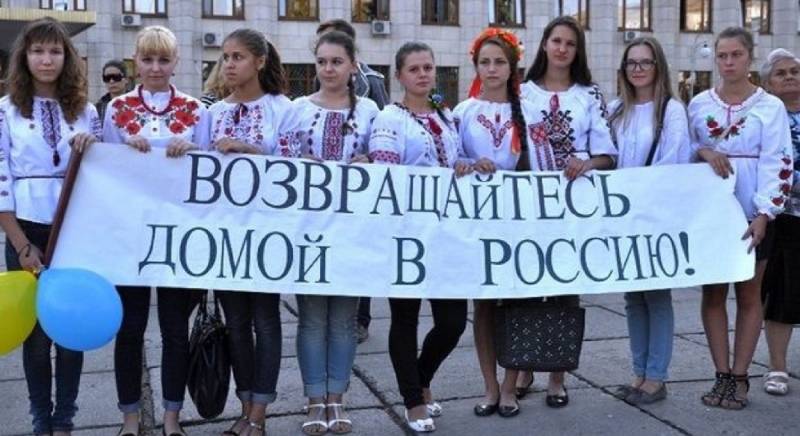 Logical - not always true
It so happened historically that migration is considered by many to be the only effective cure for the demographic weakness of states. The reason is simple: in developed countries, the population does not want to give birth to children in an amount sufficient even for reproduction. This means that sooner or later the question inevitably arises of the lack of personnel for the normal functioning of local business, and then the more severe problems associated with the very existence of the state.
And attracting foreign migrants seems to be a logical way to resolve the issue: you simplify migration legislation, and now the grateful business is bowing at your feet, and in kindergartens and schools across the country, the voiced voices of new citizens born in families of immigrants from Pakistan, India, Africa, Mexico and many more countries of the world. This is a simple way, and every simple way is attractive for all kinds of public servants, who often do not care about real problems, if the reporting is good.
I'll clarify right away: I am not a supporter of simple solutions. Firstly, it seems to me that the dominance of migrants is one of the factors determining the unwillingness of our women to give birth to children. No, they are not nationalists or racists. As a rule, they are very far from this even at the household level, not that on the ideological one. This is a little different: in a situation where the criminal situation in the state, to put it mildly, is far from ideal, the influx of visitors inevitably spurs crime. And when your child is not safe on the streets (as well as in schools, universities), his mother is enough for one not to find a place for herself from excitement all day.
In addition, I am quite skeptical about a short-lived business. Everything is very simple here: working hands are needed - compete for them! Raise your salary, improve your social package, create optimal working conditions. This is an excellent incentive for investment in labor productivity, in increasing output, in the purchase of more productive equipment. Dear worker, it is beneficial for the economy if it is not oriented toward exporting slippers and shirts. And for Russia, which in principle cannot count on fair competition in foreign markets, it is all the more stupid to focus on growth models built on the cheapness of labor. Therefore, running away with a handkerchief for every one of our business is clearly not worth it, otherwise soon our salaries will be lower than in Bangladesh.
In general, if you call a spade a spade, I am against any mass migration of foreign citizens to Russia, with the exception of the repatriation of compatriots and their descendants. Everything else, probably, I am ready to accept, albeit very limited and selective. But…
There is some likelihood that I am wrong. So let's still try to consider some options for improving the system of receiving migrants and turning them into real (without quotes) Russians.
Fertility Priority!
To begin with, I will nevertheless make a reservation: before starting any large-scale migration program, we should somehow achieve a turning point in the fight against crime. This is a topic for another conversation, so we just take it for granted: first, a decrease (and significant!) In crime, and only then - migrants from potentially criminogenic points of the globe. And not the other way around ...
It would also be worthwhile first to take care of stimulating the birth rate in the country and only then invest in the reception of migrants. And these are just directly related things: if the money eaten by migration programs can increase maternal capital, increase child allowances and subsidize a mortgage for large families, then this is clearly a more reasonable investment than the cost of receiving and arranging millions of new fellow citizens.
The exception, of course, can (and should!) Be the repatriation programs of compatriots. But there are some purely Russian nuances that need to be taken into account somehow when drawing up repatriation programs. And above all, it is the multinationality of our state, which many opponents of repatriation programs point to.
According to them, it is unfair to repatriate Russians and their descendants to Russia, since there are still many other nationalities. This, they say, may somehow infringe on their rights, lead to protests, the growth of interethnic tension, and so on.
But this argument, admittedly, is very crafty, since absolutely nothing prevents us from repatriating citizens of any nationality on an equal footing if it, this nationality, traditionally lives on the territory of the Russian Federation. Yes, repatriation should apply to Russians, Tatars, Kalmyks, and Mordovians, without exception. Moreover, if the quality of one of the markers is made to include the territorial formation of the nation on the territory of the Russian Federation, then it will also affect Jews, for example, who did not live compactly on the territory of the current Russian Federation.
True, the opponents are more worried about something else, which they try not to talk about, but what can be seen in many of their speeches: they are afraid of a change in the percentage ratio, that the Russians in Russia will become much more proportional. And without that, after all, our country can be considered mono-ethnic, if we approach this issue with European standards. And then there will be even more Russians - horror-horror, is there "nationalism" here ?!
In any case, repatriation programs for compatriots exist both in Israel and in Germany. And the programs are working, effective. Therefore, here, if an appropriate decision is made, it will be easier: it is not a sin to adopt someone else's experience if it is successful and useful for the state.
Selective migration. Not a vacuum state, but a gardener state!
Now to the question of what and how to do with the so-called labor or economic migration. Here, it turns out, there are also options for successful selective migration based on the needs of the state for certain specialists.
One example is Canada, whose migration legislation is directly based on the principle of demand. Moreover, a whole ministry is engaged in migration there, and for successful migration to Canada it is better not just to have a demanded specialty, but already signed a labor contract with a Canadian company. In turn, there is a limitation for Canadian employers: they first need to prove that none of the indigenous people apply for the available vacancy, and only then they can "sign" a foreign citizen. There are, of course, exceptions, but these are exceptions, not the norm.
Amazing right? Tell the Russian official about this, and after a moment's pause and bewilderment, he will surely say: was it possible? Yes, it turns out that it was possible not to arrange a passage yard from the country, to normalize the work of attracting foreign migrants and guest workers, not to create unnecessary tension in Russian society, not to "stimulate" street crime and drug trafficking. In general, one could immediately do well.
In general, to summarize our small essay, the following should be noted.
First of all, it is worthwhile to understand that even in the most liberal and democratic states the state approach to the issue of migration is not only allowed, but also practiced with confidence. And this does not harm either democracy or liberalism. Therefore, the lamentation of our paid guardians for the tear of a child should be left out of the brackets of any serious discussion of the problem.
In addition, the lamentation of our "business" must be left there. Strictly speaking, he has long been in need not of benefits and privileges, but of competent regulation and increased responsibility. The current situation is already dangerous because the business, in any complication of the situation, goes "into the shadows", taking it almost for granted. But this not only does not solve the problems of the business itself, but also creates them for the whole society.
Of course, we can and will have to return to the interests of business. But a little later.
When, you ask? And here's a good marker for you: when the wage gap between top management and a hired skilled employee is not more than 300%, we can say that payrolls are really close to optimal. And if for some this figure seems unreliable, then here you can cite the example of the Scandinavian countries or the late USSR, where the worker received an average of 300 rubles, and the director of the plant somewhere around 800-900 rubles. And nothing, especially not complaining.
Also the most important issue is the banal restoring order on our streets. Drug traffickers should receive capital punishment, all sorts of "criminal authorities" need a fourteen-hour forced day at the state employer, other bandits and criminals should also be horrified to think that the Ministry of Internal Affairs may be interested in them. And only then can migration, especially thought out, become a blessing for our country.
In the meantime, as you know, we make decisions randomly, without thinking. Sometimes it seems that even the world experience in this matter is studied by us at the level of newspaper headlines, not deeper. Therefore, I am against any mass immigration, except for the repatriation programs of our compatriots.
Well, then, probably, time will tell.