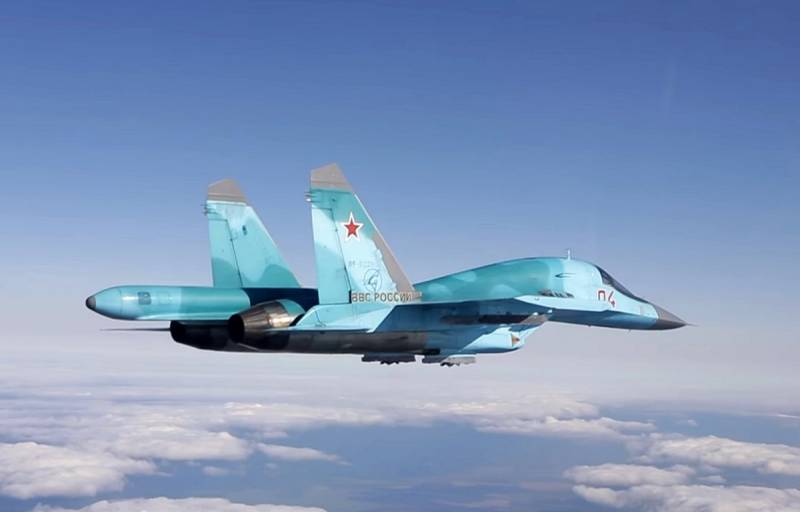 A modernized version of the Russian Su-34 bomber will appear by 2022. This was reported by TASS with reference to two sources in the military-industrial complex.
Currently, development work is underway to create a modernized version of the Su-34. The first prototype of the aircraft should be released by 2022
- the agency quotes the words of one of the interlocutors.
According to the second source, the development of a modernized version of the Su-34 should be completed within two years.
A different airborne radar will be put on the bomber, its navigation system will be updated and the information display systems in the cockpit will be improved
- he said, adding that the avionics will receive an open architecture, which will provide the opportunity to install systems developed on other aircraft.
The fact that the Ministry of Defense decided to start work on creating a modernized version of the Su-34 bomber and signed a corresponding contract with Sukhoi was reported in August this year. In the course of work, the aircraft should receive improved avionics and new weapons.
Work on the modernization of the Su-34, taking into account the experience of using the aircraft in combat conditions in Syria, should have begun in 2018. At the Novosibirsk aircraft plant, which is part of Sukhoi, development work was initiated on an initiative basis to increase the combat potential of the aircraft, including equipping the Su-34 with new weapons and new electronic warfare systems.
Su-34 is a multifunctional fighter-bomber designed to strike at ground and surface targets in the face of strong opposition from enemy air defense equipment. According to its combat capabilities, the Su-34 belongs to the 4+ generation and is capable of performing basic combat missions without escorting fighters. Due to the high speed and maneuverability, the bomber can independently conduct an air battle with enemy fighters. The plane received the unofficial nickname "Duckling" because of the bow, in a shape resembling a duck beak.