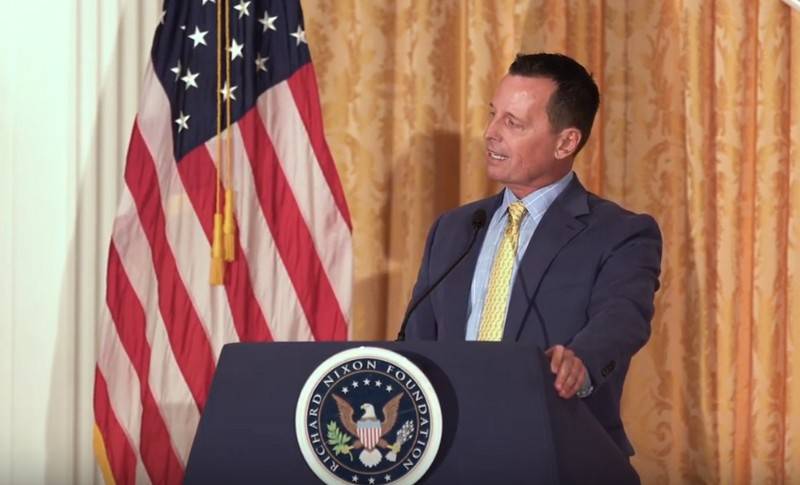 US sanctions imposed against the Russian gas pipeline Nord Stream-2 were adopted in the interests of the European Union. This statement was made by US Ambassador to Berlin Richard Grenell in an interview with Bild.
Answering questions from German journalists, Grenell said that the sanctions imposed against the Nord Stream 2 pipeline were adopted solely in the interests of the EU, and many European countries have already thanked Washington for their introduction.
Seriously: 15 European countries, the European Commission and the European Parliament all expressed their concerns about the project. We have long heard from our European partners that the United States must support their efforts. Therefore, sanctions are a very pro-European decision.
- he said.
Grenell explained that Germany is demanding that the United States "do more for Europe," and the United States, fulfilling Germany's demand, imposed sanctions against Nord Stream-2, thereby "taking a pro-European position."
Germany is now saying that more needs to be done for Europe, and we believe that when it comes to Nord Stream 2, we have taken an extremely pro-European position. I hear gratitude from European diplomats almost all day for taking these measures.
- he stressed.
According to Grenell, the US goal is "to prevent a country from gaining too much influence in Europe through energy."
On Friday, the United States adopted a defense budget for 2020, which provides for the imposition of sanctions against the Nord Stream-2 and Turkish Stream gas pipelines. The German government called the US sanctions "interference in European affairs."
Active opponents of the construction of gas pipelines were Ukraine, Lithuania, Poland, Latvia and a number of European countries, as well as the United States, which seek to replace cheap Russian gas with more expensive shale gas.