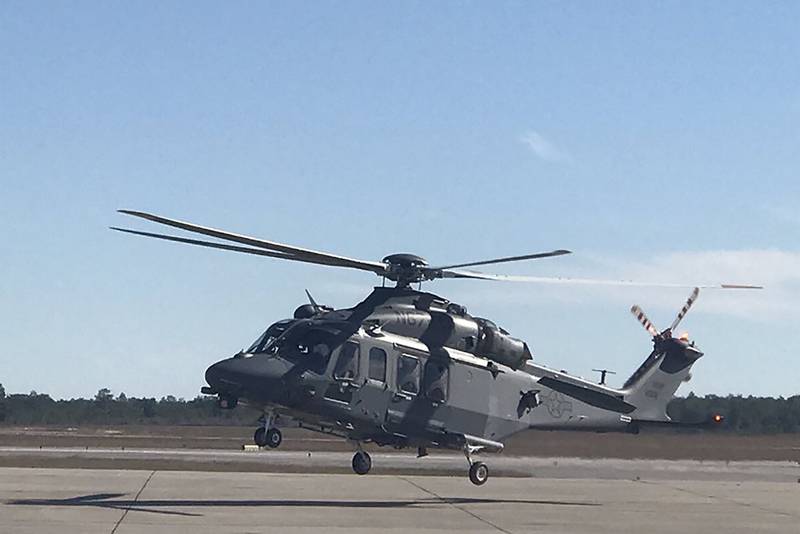 The first multi-purpose helicopter Boeing / Leonardo МН-139А Gray Wolf. Strategic aviation US Air Force Command
The U.S. Air Force has adopted the new multi-role helicopter Leonardo (Agusta Westland) AW139, which received the official designation MH-139A Gray Wolf. The official naming ceremony of the helicopter was held at the Duke Field air base (Florida).
On December 19, 2019, the United States Strategic Aviation Command (Air Force Global Strike Command) received the first production helicopter MH-139A Gray Wolf. The machine entered service with the 413rd US Air Force Test Squadron based at Duke Field, where these vehicles will have to undergo military tests. Three more MN-139A helicopters will enter the squadron in January-February 2020.
In the future, the MH-139A Gray Wolf helicopters will replace the fleet of obsolete Bell UH-1N Huey helicopters used to ensure the security of US ground-based strategic silo-based ICBMs.
In September 2018, Boeing won a contract to replace Huey in the amount of 2,38 billion. The company's offer was a military version of the commercial helicopter AW139 manufactured by Italian company Leonardo. This helicopter won the competition from the UH-60 Black Hawk, presented by Lockheed Martin Sikorsky and Sierra Nevada Corp.
In total, the US Air Force plans to purchase 84 Boeing MH-139A helicopters, the cost of the procurement program, together with technical support and training of personnel, is estimated at $ 2,4 billion. Deliveries to training and line units should begin in fiscal year 2021.
Currently, the U.S. Air Force uses 62 Bell UH-1N Huey helicopters, which began to enter service in 1970, to ensure the safety of strategic silo-based missile systems.