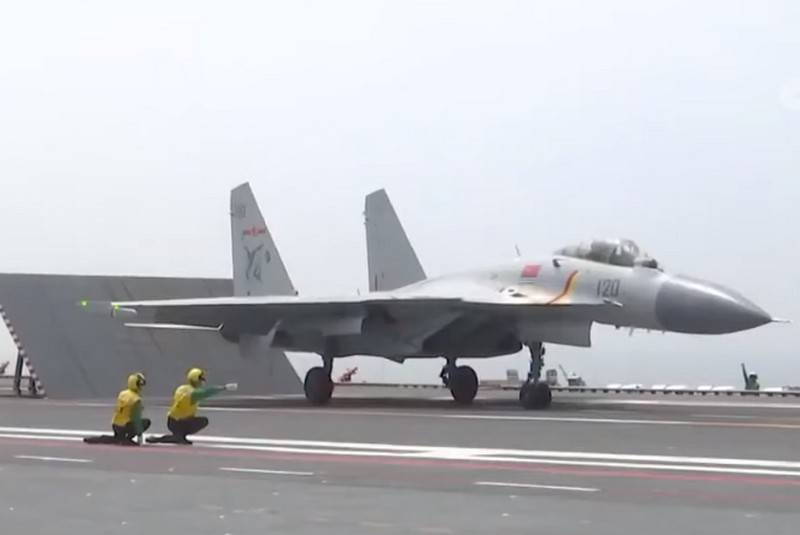 China showed the first take-offs of J-15 carrier-based fighters from the latest Shandong aircraft carrier, which was introduced to the PLA Navy on December 17 this year. Video of flights was presented by the Chinese television channel CCTV7.
J-15s were chosen as deck fighters for the new aircraft carrier. It was with these aircraft that the aircraft carrier passed a test cycle. At the first Chinese aircraft carrier Liaoning, J-15 fighters also form the basis of the wing.
J-15 - an aircraft created on the basis of the Su-33, a prototype of which China purchased in Ukraine and then developed its own fighter based on it, later received the name "Flying Shark" in the PLA Navy.
Earlier, an official representative of the PLA Naval Forces Cheng Delay explained why the new Chinese aircraft carrier was named "Shandong" and tail number "17". According to him, the aircraft carrier is named after the eastern province of China, Shandong, and the number "17" is assigned to the ship, because the number "16" belongs to the first Chinese aircraft carrier "Liaoning".
The rules for the designation of warships clearly state that warships of the above type "cruiser" and "universal landing ship" receive the names of provinces or cities of central subordination. In accordance with this rule, and also taking into account the applications of the provinces and cities themselves, the second Chinese aircraft carrier was called "Shandong"
- Delay explained.
"Shandong" - the first Chinese aircraft carrier fully own production. The construction of the ship started in 2013, and in 2017 it was launched.
According to the Huanqiu Shibao newspaper, the adoption of the Shandong aircraft carrier into service with the PLA Navy means that China is the first to
stories
became the owner of two aircraft carrier groups. In addition to the United States, which has several AUGs, only Great Britain and China can boast of two carrier groups. Moreover, both states acquired second aircraft carriers in December of this year.