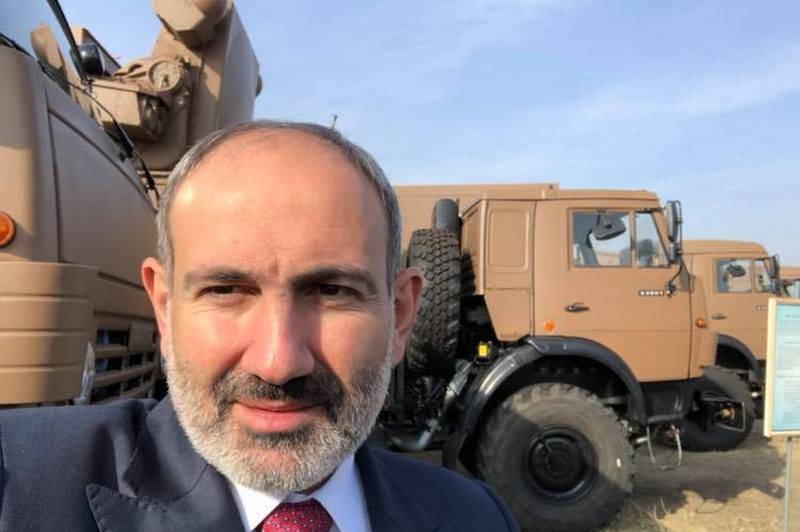 The Armed Forces of Armenia received the Russian-made Tor-M2KM anti-aircraft missile systems in a modular design. This was announced by the Prime Minister of Armenia Nikol Pashinyan, making an appropriate entry on Facebook.
Armed forces of Armenia replenished with ultramodern air defense and missile defense systems Tor-M2KM of Russian production. This is one of our most important acquisitions this year. I can't say anything about quantity, military secret
- said Pashinyan, adding that the complexes are new, manufactured in 2019.
Pashinyan posted his photo on the background of the delivered complexes. As can be seen from the photo, the Tor-M2KM air defense systems were created on the basis of the KamAZ Russian car. No other data is provided.
SAM "Tor-M2KM" - a modular complex, which is an autonomous combat module, which can be placed on any car chassis or other platform with the appropriate carrying capacity. It can be stationary. The module itself contains all the special equipment, a computer complex, radar and optical equipment, missile weapons, an operator compartment, an autonomous and additional power supply system with its own fuel supply, life support systems, ventilation and air conditioning.
The module is mounted on the platform using three special quick-release brackets. The design of the brackets allows you to quickly rearrange the ABM from one platform to another, which takes no more than 10 minutes and is carried out by a conventional 25-ton crane.
ABM is in no way associated with the platform on which it is installed. He has his own power source in the form of a gas turbine unit, which provides the generation of electricity with the required parameters and power.
SAM "Tor-M2KM" has high reliability and effectiveness in the fight against actively maneuvering air targets, managed and planned
aviation
bombs, anti-radar, guided and cruise missiles, unmanned aerial vehicles, airplanes and helicopters.
The complex is equipped with modern computing facilities and radar, which can detect up to 144 target marks, simultaneously track up to 20 (in the "link" mode) of the most dangerous targets and ensure the simultaneous defeat of four of them.