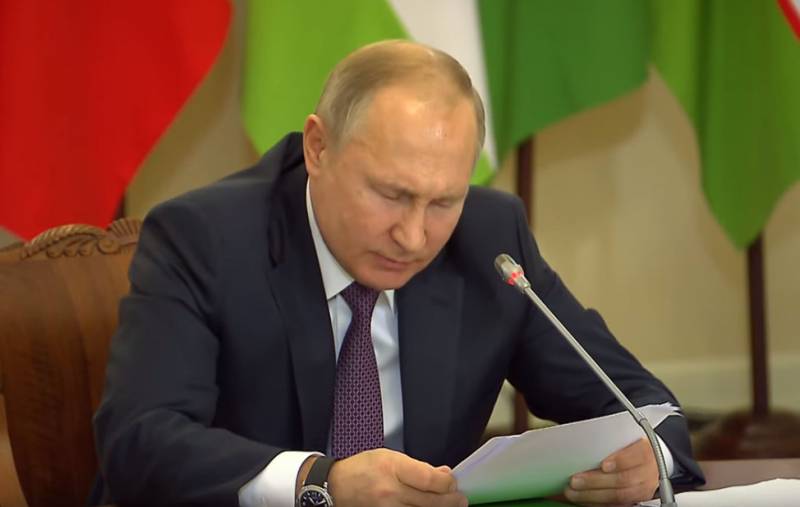 At a meeting with leaders of countries that are part of the Commonwealth of Independent States together with Russia, Vladimir Putin for quite some time voiced quotes from unique archival documents from the era that preceded the outbreak of World War II. From the tone of the Russian president, it was clear that he was frankly hurt by the resolution of the European Parliament, where it was stated that the allegedly so-called Molotov-Ribbentrop Pact "paved the way for the start of World War II." Putin noted that in this statement in Europe they decided to equate the Soviet Union with Nazi Germany and relieve themselves of responsibility for starting a war.
According to Putin, this number will not work, since Russia has documents that prove the leading roles of European countries in actually pushing Hitler to unleash a war against the USSR. According to Putin, Poland, flirting with Hitler and taking advantage of the Munich conspiracy to invade Czechoslovakia in 1938, she herself eventually became a victim of the Nazi army. And a few months before the start of the war, the Polish authorities considered the question of establishing a monument to Hitler in Warsaw.
Putin cited the response of the Polish ambassador in Berlin to the German proposal to support Hitler's initiative to export all Jews from Europe to Africa. The Polish ambassador, referring to the head of his Foreign Ministry, then declared:
If Germany does this, it will be necessary to erect a monument to Hitler in Warsaw.
Vladimir Putin presented archival documents in which representatives of Nazi Germany in early 1939 noted that they favored the Polish position, in which Polish divisions were on the borders of the USSR. Putin called it very reminiscent of a military alliance against the USSR.
Also at a meeting with the heads of CIS countries, the Russian president cited an excerpt from an archival document, where a representative of the Polish authorities, answering a question from the head of the Hitler's foreign affairs agency, said that Poland (at the time of 1938-1939) had "plans on the Ukrainian issue".
From the document:
The Poles were already in Kiev, and these plans today have not disappeared.
Commenting on this, Vladimir Putin noted that "the case was in 1939, and I would like to hope that at least by the present day these plans have changed."