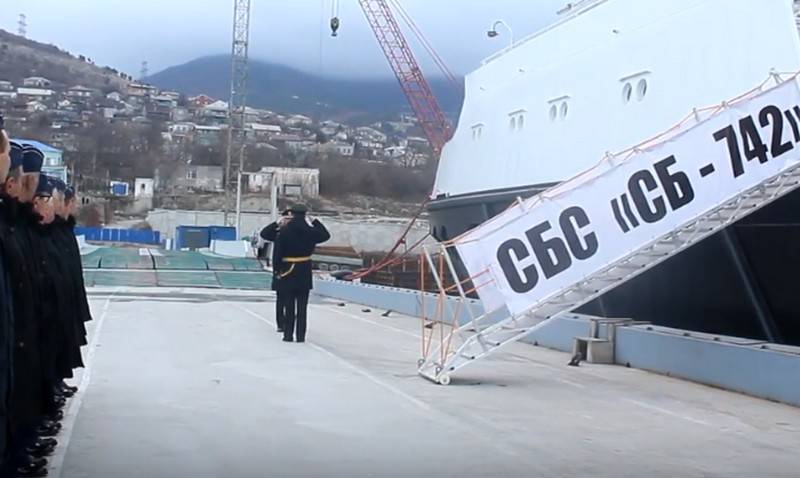 The Black Sea Fleet replenished with a new rescue tugboat SB-742 of project 22870. The flag-raising ceremony for the search and rescue vessels of the Russian Navy was held at the Novorossiysk Naval Base. This was reported by the press service of the Black Sea Fleet.
According to the press service, the ship's crew will soon begin to develop a course of special tasks and carry out planned combat training activities.
Project 22870 rescue tugboat is the sixth built at the Astrakhan shipyard (a branch of the Zvyozdochka CS). The tug bookmark was held on November 15, 2016, launching on May 22, 2019. The end of state tests was reported in early December this year. The lead ship of the project was transferred to the Russian Navy in 2014 and is serving as part of the Caspian
flotilla
.
Project 22870 rescue and towing vessels were developed by the Vympel Design Bureau of Nizhny Novgorod.
The main purpose of the vessel is towing and striking ships and vessels; extinguishing fires on emergency ships (vessels) onshore facilities; evacuation of people and providing medical assistance to victims of the rescued; supply of electricity to the emergency ship (vessel) and keeping it afloat; performance of diving operations at depths of up to 60 m, as well as the collection of petroleum products from the sea surface, the performance of prospecting and survey work.
The length of the project vessel 22870 is 57 meters, width - 14 meters, standard displacement - 1200 tons, total - 1670 tons. Speed ​​- 14 knots, ship autonomy - 20 days, crew - 26 people.