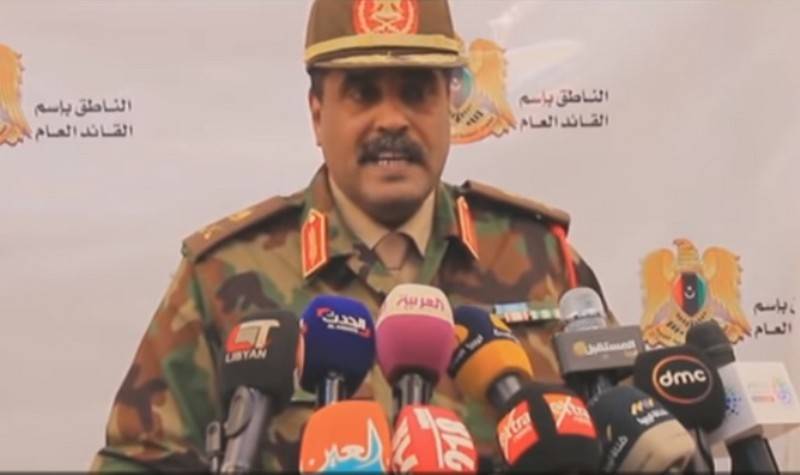 The Libyan National Army (LNA), Field Marshal Khalifa Haftar, issued an ultimatum to the Government of National Accord (PNS) Faiz Saraj, demanding the release of the cities of Sirte and Tripoli within 72 hours. This was reported by Al Arabiya TV channel, citing a statement by the official representative of the LNA Ahmed al-Mismari.
The LNA demanded that the armed formations supporting the PNS leave the territories of the cities of Sirte and Tripoli. The withdrawal of units is given 72 hours, during which the LNA agrees not to attack forces departing from the above settlements. If the ultimatum is ignored, the Libyan National Army will resume attacks on the positions of the armed forces of the PNS.
The LNA commented on the information of some Arab media that the PNS would request military assistance from Turkey, saying that it was "an attempt by a drowning man to grab onto a straw."
On the eve of the official representative of the LNA Ahmed al-Mismari said that the forces of the Libyan National Army completed the land encirclement of the PNS-controlled armed forces stationed in Tripoli. The only way to supply arms remains the sea.
Previously, information appeared about the appearance of Turkish special forces in Tripoli, which was entrusted with the functions of protecting members of the government of people's consent (PNS). Declared the receipt of military equipment of Turkish production. According to Al-Arabia TV channel, Turkish military advisers also arrived in the Libyan capital to "assess" the military situation. It is reported that at the same time as the arrival of Turkish troops, the Turkish parliament approved the agreement on military cooperation between Turkey and the PNS, signed in late November, implying the provision of military assistance. In addition, in a number of cities in the west of Libya, under the control of the PNS, general mobilization has been announced.
After the assassination of Muammar Gaddafi, there is a dual power in Libya: the PNS Sarajah, recognized by the EU and the UN, sits in Tripoli, and in the east of the country there is a popularly elected parliament supported by the LNA. Marshal Khalifa Haftar on April 4 gave the order to launch a large-scale offensive on Tripoli.