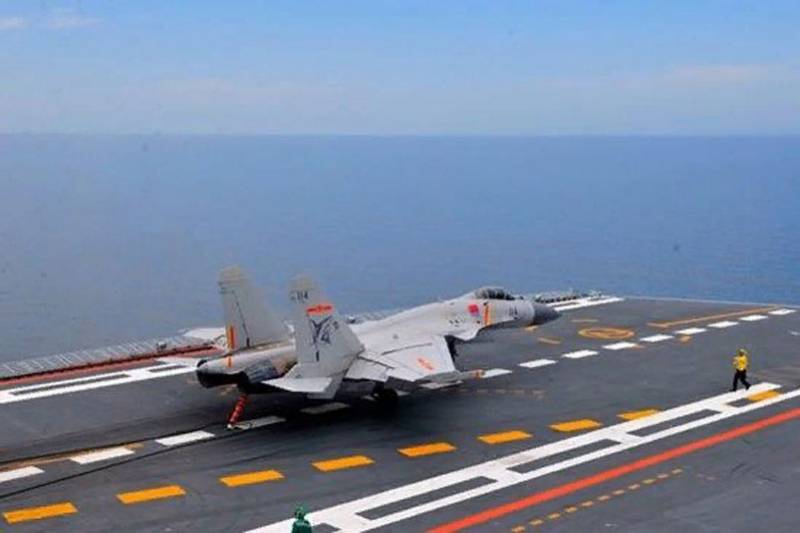 In China, decided on the name for the carrier-based fighter, which is selected as the basis for the wing of the first aircraft carrier Type001A Shandong built in China. We are talking about J-15 fighter jets, which over the past months have passed tests on take-off from the Type001A Shandong deck and landing on it - at that moment when the aircraft carrier himself passed a series of tests before putting into service the PLA Navy (held this week) .
J-15 - an aircraft, the base model of which is the Su-33, which at one time China was purchased from Ukraine and studied in detail (the design of the airframe was primarily studied).
As reported in the military section of a major Chinese information portal Sina, the J-15 received the name "Flying Shark" in the PLA Naval Forces. This name was assigned to the combat aircraft, which carried out its first flight exactly 10 years ago - in 2009.
It is reported that the wing of the Shandong aircraft carrier from the Flying Sharks J-15 is being formed, and soon the aircraft carrier with 10-20 fighters of this type will go to perform the first patrol (combat training mission) after official commissioning.
J-15s are also used on the Chinese Liaoning aircraft carrier. For all the time of their operation, only one incident with carrier-based fighter jets was officially recorded. In 2017, the J-15 immediately after take-off fell into a flock of birds, resulting in the ignition of one of the engines. However, the pilot managed to land.
The Chinese Ministry of Defense notes that only experienced pilots are allowed to fly Flying Sharks. To date, the average age of J-15 pilots is 35 years. Recall that previously in China voiced the average age of fifth-generation fighter pilots J-20. He is 32 years old.