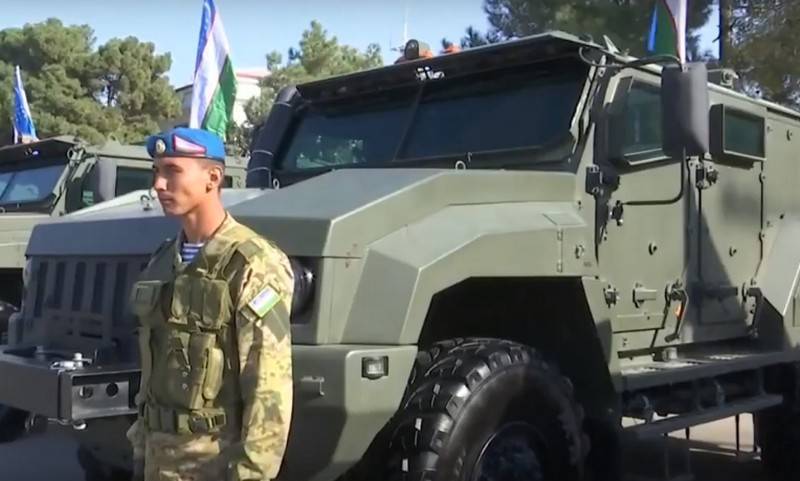 The Ministry of Defense of Uzbekistan adopted the Russian Typhoon armored cars and signed a contract for the supply of a large batch of armored vehicles. It is reported by Mil.Press Military.
According to the country's Ministry of Defense, in 2015, the US gave the Uzbek military 309 pieces of equipment, including 159 M-ATVs made by Oshkosh, 50 MAXXPRO PLUS developed by Navistar International, 50 COUGARs of various designs from Spartan Motors and 50 RG33L, according to the program of liquidating surplus army assets. that BAE Systems does. Despite this, the Ministry of Defense of the country decided to adopt the Russian Typhoon K-53949 armored vehicles manufactured by Remdiesel, having ordered the delivery of a large batch.
Before signing the contract, Russian armored vehicles were compared with American ones. According to an officer of the Uzbek army, Russian cars turned out to be better in key indicators.
The most important thing for us is the maintainability and availability of spare parts. Serving "Typhoons" is much easier. They also perform better in mountain conditions.
- he said.
Earlier it was reported that Uzbekistan and Russia signed a contract for the supply of a large batch of K53949 Typhoon 4x4 armored vehicles in the interests of the Uzbek armed forces. The first batch of new armored vehicles has already received units of the South-West Special Military District of the Armed Forces of the Republic of Uzbekistan.
Armored vehicles K-53949 are designed to solve the problems of comprehensive support of combined arms and special units, including peacekeeping units, in various conditions. It can be used for transportation of personnel and cargo. The car has high combat and operational characteristics, high controllability, speed and maneuverability on all types of roads. Multipurpose armored car has protection against small arms
weapons
and explosive devices. Armament on an armored car can be set different, depending on the tasks performed.