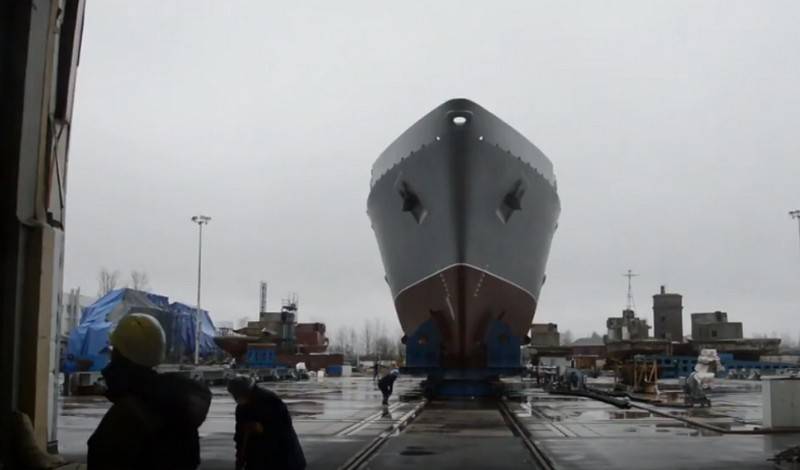 The mine defense ship (minesweeper) "Yakov Balyaev" of project 12700 was removed from the workshop at the Sredne-Nevsky Shipyard in St. Petersburg. This was reported by the press service of the Ministry of Defense.
At the Sredne-Nevsky Shipbuilding Plant in St. Petersburg (part of the USC), the latest Yakov Balyaev project 12700 mine defense ship, built for the Russian Navy, was withdrawn from the workshop. The ships of this project have a unique, largest in the world hull of monolithic fiberglass
- said in a statement.
The press service said that the ship completed work on the formation of the hull and saturate it with systems and mechanisms. Launching and completion on the water will take place at the beginning of next year. The crew is being trained at the Joint Training Center of the Russian Navy in St. Petersburg.
The mine defense ship (minesweeper) of Project 12700 Yakov Belyaev was laid down on December 26, 2017. It is the fifth in a series and fourth serial ship of this project, laid on the stocks of the plant. Named in honor of the Hero of the Soviet Union, sailor, gunner of the 355th Pacific Separate Marine Battalion
fleet
Yakov Illarionovich Balyaev.
The 12700 project was developed by the Almaz Central Marine Design Bureau for the Russian Navy. Ships of this series have a unique hull made of monolithic fiberglass, formed by vacuum infusion. Ships are designed to deal with modern types of mines both in the waters and on the ground. They are able to use the latest sonar stations, located both on the ship itself and on remote-controlled and autonomous underwater vehicles, and have an automated mine action control system. Able to use traditional trawl weapons.
Displacement - 890 tons. The ship is 62 meters long and 10 meters wide. Full speed - 16 nodes. Crew - 44 person.