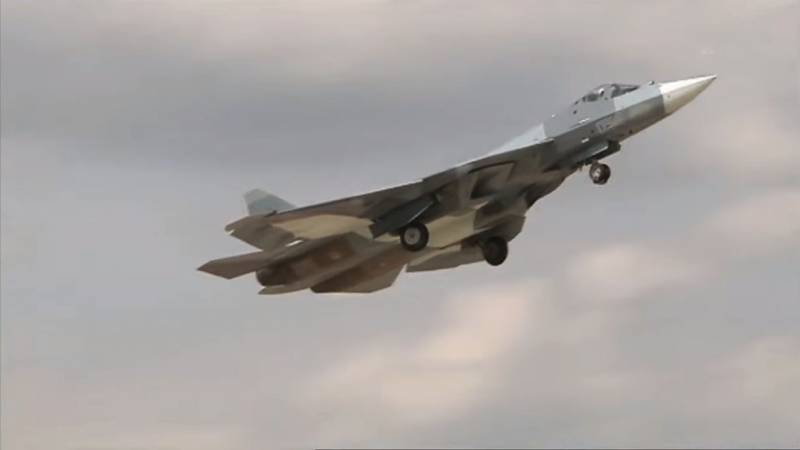 The departmental publication of the Ministry of Defense "Red Star" published the text of the speech of the Chief of the General Staff of the Armed Forces of the Russian Federation Valery Gerasimov to foreign military attaches. The general, among other things, reported on the ongoing testing of fifth-generation fighters Su-57.
According to the Chief of the General Staff of the Armed Forces of the Russian Federation, a repeated test use of Su-57 combat aircraft in Syria was carried out.
Gerasimov:
In the course of their repeated testing in Syria, all the planned tasks were successfully completed.
Recall that the first stage of the "Syrian" tests of Su-57 fighters became known at the beginning of last year. Initially, it was reported that two fifth-generation aircraft of Russian production were tested, then the legislative body of the Russian Federation noted that four Su-57s were used for testing in combat conditions.
It is noteworthy that the foreign partners actually missed the second stage of the tests of the new generation Russian combat aircraft in Syria. Usually in such cases, satellite images from the Khmeimim airbase appear in a number of foreign media, where, among other means,
aviation
see and Su-57. Silence this time.
In this case, it must be recalled that at Khmeimim, Russian military personnel built special fortified hangars in which various military aircraft can be located. For obvious reasons, this reduces the likelihood of "catching" cameras of foreign satellites of certain planes that arrive at the air base in Latakia and depart from its territory.
Valery Gerasimov did not report on the arrival route of the Su-57 to the SAR.