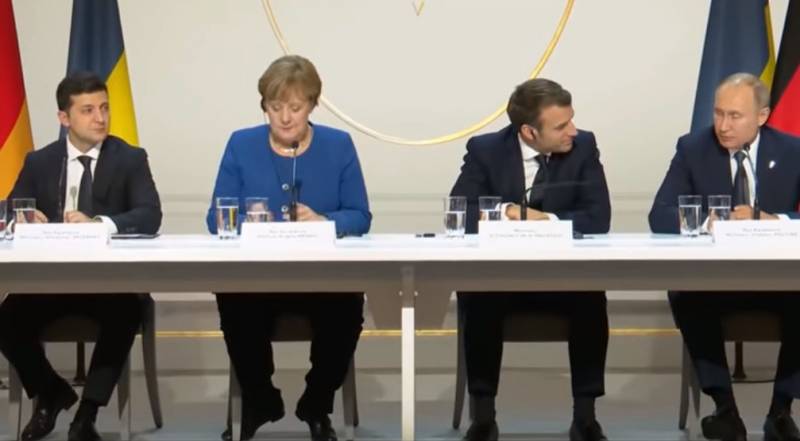 The Ukrainian edition of Facts today published an interview with the Director General of IA Interfax-Ukraine Alexander Martynenko. The interview was mainly devoted to the so-called "Norman Four" summit in Paris. According to Martynenko, in Ukraine it's time to stop thinking in terms of "zrad or overpower" and try to look at things and processes carefully. He noted that for the President of Ukraine Vladimir Zelensky, such a meeting became an opportunity to enter the "major league of world diplomacy".
According to Martynenko, everything that Zelensky had before that, "can be considered a warm-up". Even a conversation with US President Donald Trump?
From the interview:
The most important result of this meeting ("Norman") was that he (Zelensky) plunged into this process and emerged from it without drowning, which is important.
In the same interview, Martynenko said that "unidentified Russian persons" were present at the Champs Elysees.
Statement made by Alexander Martynenko for the publication of Facts:
When I sat quietly next to the press center - in a completely closed territory where a special security regime was established, a small column passed by - twenty people inside, inside of which were several characters in balaclavas and in military uniform with a chevron in the colors of the Russian flag on my left hand .
Martynenko summed up:
Real "green men".
The interviewee made this statement when the words were heard that the Ukrainian journalist Dmitry Gordon announced that he had seen an armed guard of Vladimir Putin who he saw in the Champs Elysees.
During the conversation, Martynenko added that Putin in Paris "first met a man who will outlive him even politically." This characteristic was given Zelensky.