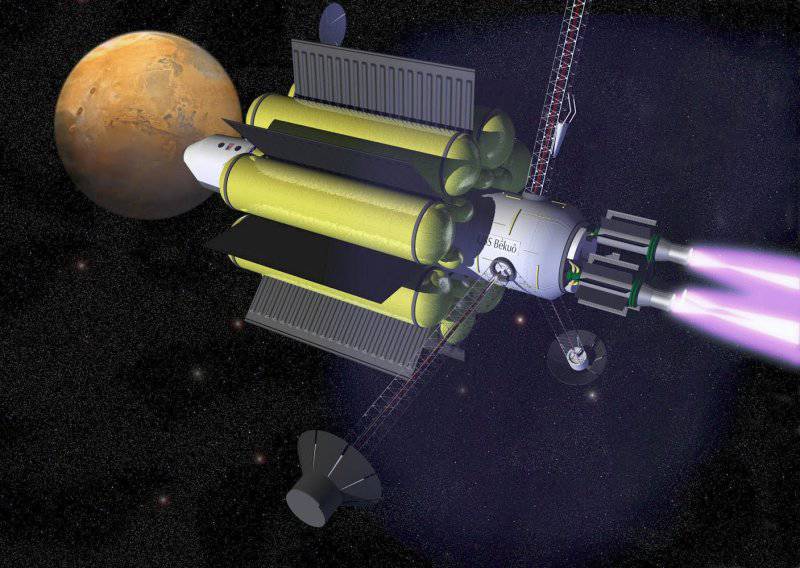 A prototype of the megawatt class nuclear propulsion system designed for interplanetary missions will appear in Russia in the 2017 year.
"Today, scientific and experimental work is underway. Russia is the leader here, despite the fact that it was stagnant, but a lot was done during the Soviet era. This is, for example, the Topaz power plant, the head of Roscosmos, Vladimir Popovkin, told reporters.
"Rosatom is currently developing a nuclear reactor, we (Roskosmos - approx.) - the rest. I think that the prototype will be released in the 2017 year, and there it will be necessary to make a decision whether to make a flight machine or not. But for the time being it is necessary to make a prototype and work it on the ground, "said V.Popovkin.
Earlier it was reported that the creation of a megawatt-class nuclear power plant for a promising space technology would cost Russia more than 7 billion rubles. According to the documents of Rosatom, "the project is financed at the expense of the federal budget."
According to the plans, by the end of 2017, the preparation of a nuclear power propulsion system will be carried out to complete the transport and energy module (the interplanetary flight module). By the end of 2018, the transport and energy module will be prepared for flight design tests.
The project will form the basis for the implementation of promising space programs for the study and development of deep space, including flights to distant planets, expeditions to Mars, the creation of lunar bases, the documents say.