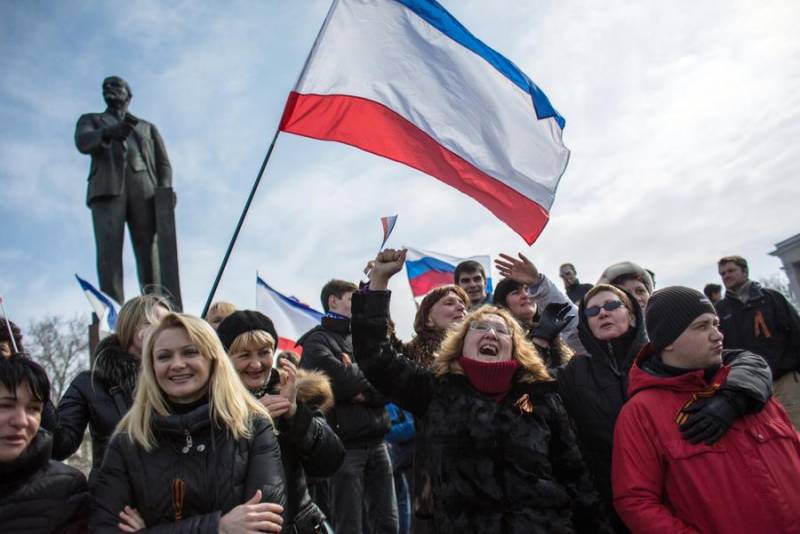 Two points of view on one historical event
Since the very Crimean events of March 2014, there are two fundamentally different versions of what happened. As a matter of fact, these two versions are absolutely incompatible initially and do not leave any place for any negotiations and "consultations". The version of Ukraine (and the version of the West) is aggression; Crimea was "occupied". From the point of view of Russia (and Crimeans themselves), there was a return to their native harbor. By the way, it is precisely the example of Crimea that clearly demonstrates to the "pacifists" that sometimes political conflicts have simply irremovable causes. Sometimes fundamentally
impossible
to agree and it is necessary either to fight or surrender.
Almost everyone knows that the political system of Ukraine in February 2014 irreversibly changed. Denying this (and hoping for a rollback to starting positions) is stupid enough. What happened is what happened. I must say that a significant part of the elites and the population of Ukraine either supported this reversal, or at least did not seriously protest. You know, it is impossible to make a clean policy in an airless space, without looking back at the masses.
Ukraine is not quite Russia, all today's regrets of some Ukrainians are "tactical" regrets, they say, something went wrong. If the population of Ukraine was categorically against, the Maidan would not be impossible. There are no miracles. But it did. And about the same as fractions of different densities are separated in a powerful separator, so after the Maidan the protest (and the decisive protest) went just in the Crimea, and, oddly enough, in the Donbass (strange, because Donetsk is the base of those same "Donetsk "). So there, in the Donbass, everything was "not so clear" until 2014.
I would even say that Donetsk "flew" from Ukraine due to the very unprofessional and aggressive actions of the new authorities. But Crimea was clearly, unequivocally and categorically against from the very beginning. Such matters, no one is to blame, it turned out itself. But I must say that in general Ukraine "ran" for the Maidan. And to do something with it was very difficult. We cannot decide something for the inhabitants of another state.
But Crimea just did not run. Crimea ran strictly in the opposite direction. Which, in principle, is quite normal. The only option for the new government to keep this region within Ukraine was a purely forceful one. But just the possibility of such interference from Kiev was not. Simply, Russia entered the game. And the Ukrainian authorities (both old and new) did not use any popularity on the peninsula.
And just from the very beginning of independence, Kiev was counting solely and exclusively on a power scenario, and therefore, no democratic-populist attempts to make Ukrainian power popular in Crimea were made in principle. And for millions of people in Eastern Europe, for whom the pro-Western choice is the only rational one, such a turn of Crimea was categorically unacceptable from the very beginning. And they kind of ask
himself
this question, and the only reasonable answer for them is we with Europe!
That is, people simply do not have the initial opportunity to understand that the choice is actually very different (in Russia, unfortunately, not everyone understands this either). And the logic itself, that someone chose Eurointegration, and someone chose to be part of Russia, is fundamentally unacceptable to them. That is why the opinion of the Crimeans themselves, paradoxically, was not in demand at all levels. Because (and this was already obvious) it was clearly pro-Russian and unequivocally unacceptable to Europeans.
And the European comrades, with all their respect for human rights and democracy, were categorically not ready for any kind of dialogue. Because this is the will of the inhabitants of Crimea (with obvious results) was categorically unprofitable for them. Therefore, a very simple decision was immediately made: the actions of Russia were designated as "aggression", and no one in Europe was going to leave this point. And not gathered at this moment.
A "simple" solution to the tricky question from Belarusians
The approach to this problem in the Republic of Belarus turned out to be much more paradoxical. In the sense that, purely theoretically, the problem was really incredibly complex: understandable reluctance to quarrel with Ukraine and Europe, on the one hand, and close allied relations with Russia, on the other. There is something to think about, there is something to scratch your head.
So, the solution was found very quickly, and it was very simple. The Republic of Belarus not only did not recognize the fact of Crimea joining the Russian Federation, but the Belarusian press clearly defined one single all-Belarusian position on the Crimea issue: Crimea is "annexed". Clearly, firmly and unequivocally. It's like in the Belarusian press they never write "to Ukraine" and always write "to Ukraine". However ... however, such an unambiguous decision on the Crimea immediately destroyed one of the most wonderful Belarusian myths that Belarusians really want to unite with Russia, but "they don't know how."
This myth is shattered. After all, in fact, what happened? Crimea has done exactly what Belarus is "about to do" for 25 years - that is, to unite with Russia. And Crimea accelerated very quickly and walked around the corner of unhurried Belarusians. Or how? Or what do you want? What were you going to do? What was meant by the beautiful word "integration"? Explain, please.
If anything, then the gas prices in Crimea are just quite Russian, and the Crimean enterprises have no problems with access to the Russian market. You are
it
wanted to. Or what? The Crimea also has no problems getting Moscow loans today (the Prime Minister of the Republic of Belarus, Rumas, is quietly envious in the corner). That is, all those problems that the Belarusian side has persistently voiced for us for decades have been resolved as if by magic.
For some reason, in the Crimea for a couple of years managed to do
much more
in the sense of solving all these problems, than for the entire period of the reign of a great friend of Russia from Shklov in Russian-Belarusian relations. Why? It is absolutely incomprehensible. In Belarus, the topic of contradictions along the lines of Russians - Belarusians is actively promoted and incited. Professional propagandists work. Problems created the sea. But how do Russians relate to Crimeans? Crimeans are exactly the same citizens of Russia. Everything.
In a strange way, the integration of Crimea into Russia was called (following the example of its Western partners) "annexation", it is not studied and is not considered in Belarus in principle. "It is illegal". And, as A.G. Lukashenko, "destroy the Belarusian state", which is absolutely inevitable during integration - is this legal? Not? Why then talk about integration?
For some reason, Crimea was integrated without any special problems (not counting those brought in by the "partners"). Nobody asks special questions, and people celebrate the day of unification. Well, as in Germany, celebrate October 3. And at that moment (March 18), when in Crimea, as throughout Russia, people are singing, dancing and having fun, Belarusians look at all this with great disapproval. When Mr. Babich gathered a press conference about this holiday, representatives of the leading media of the Republic of Belarus refused to attend it. Demonstratively.
To whom and why rejoice?
But it is not clear that the panamas do not like? The whole essence and whole meaning of the relationship between the Russian Federation and the Republic of Belarus is kind of like integration. This is if officially. But the integration of Crimea (quite successful for itself) causes a terrible rejection. Complete rejection. But the result of integration (and we are just interested in the result) should be just: a common economy, a common policy, a common market, and so on. How this is achieved is already the tenth thing; the main thing is to achieve this.
Crimean citizens today enjoy the rights of Russian citizens; Crimean enterprises, unlike those remaining in Ukraine, have no problems with access to the Russian market. Russia, without any questions and requests, invests a lot in Crimea, the standard of living and employment of which is already higher than in the "sovereign Republic of Belarus." Yes, there are certain restrictions due to sanctions, but for this we must already say "thanks" to our Western partners.
Both Europe and Ukraine consider Crimean residents to be part of the Ukrainian state, but they haven't done anything good for the last 5 years, only bad. That is, for the "wrong", from their point of view, decision, they declared all residents of the Crimea "criminals". Something like that. They do dirty tricks and sit, waiting for them to love Ukraine.
But the process cannot be stopped. Crimea really became a part of the Russian Federation. And it cannot be said that in Crimea someone was greatly offended. And yes, for obvious reasons, integration with Russia did not imply preservation of the full sovereignty of the Republic of Belarus. This, sorry, is fried ice. This does not happen. For 24 years of "integration", it has already become clear that Belarusians would like to have a completely sovereign state, with foreign policy completely independent from Moscow, and at the same time maintain full access to the Russian market and to Russian resources, as it were, as "subjects of the Russian Federation" . Yes, yes, exactly so: an independent state on the rights of a subject of the Russian Federation.
This, for obvious reasons, sounds wild enough, and therefore not voiced aloud. Nothing is clearly voiced at all, but the reaction to the Crimean events implies that Belarusians are not going to ride joyfully at the reunion with Russia in 5 or 10 years. Then what is it all about? The Germans celebrated quite happily on October 3. This is their holiday, and this is their day. For many years they wanted unification, and they united.
Russians happily celebrate March 18th. We have been waiting for this for many years - and now it happened. The question is what are Belarusians waiting for and what do they want to celebrate? EU Accession Day? I understand that they are ready, but what does Russia have to do with it? What is happening in Crimea does not have to be liked by someone from foreigners. What for? What is their business, do they live in Kiev or Brussels? This is the business of the Russians themselves. "Sevastopol will remain Russian." In a strange way, those who in Belarus deny the return of Crimea to Russia (modeled on their Western counterparts) are categorically not ready to discuss something with the residents of Sevastopol themselves. But this is already suspicious: today they are not ready to talk with the residents of Simferopol, tomorrow they will refuse to discuss something with Krasnodar ...
Crimeans no one "drove" to Russia, they essentially created unbearable conditions in Ukraine. And they did
his
free choice. In the same way, no one drives Belarusians to Russia, for some reason this horror story is the most popular in the Belarusian press. I understand that Belarus is not a very free country, but not to deny freedom of choice as such? Belarusians today categorically do not want a union with Russia.
For some reason, the most difficult thing for residents of the Republic of Belarus is to understand that there is such a thing as freedom of choice. They also have it, oddly enough. Russian tsars at one time very much burned to the inclusion of Poland in Russia. Stalin was very burned at the inclusion of Lviv in the USSR. Why repeat their mistakes? Does Belarus want to be European? Why not?
But trying to be "like Poland", while maintaining the "candle factory" in Russia, will fail, although pan Poroshenko tried for a very long time.