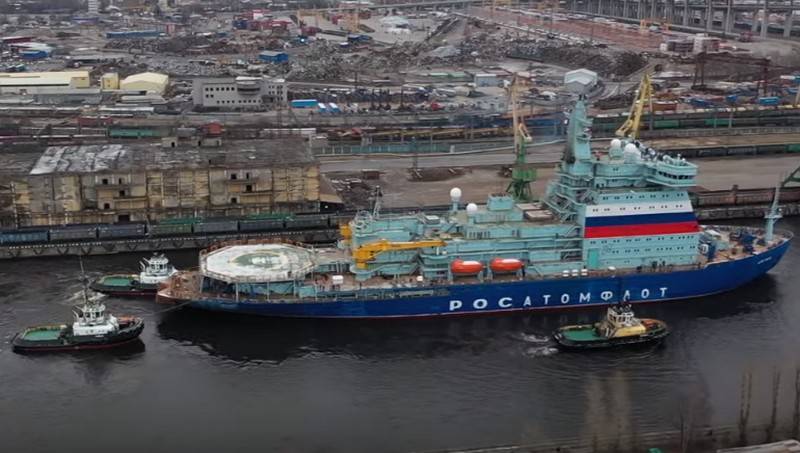 The main nuclear-powered icebreaker Arktika of the 22220 project successfully completed the first stage of sea trials. This was reported by the press service of the Baltic Plant (St. Petersburg).
Reaching the first stage of the factory sea trials last Thursday, December 12, the Arctic icebreaker successfully completed testing in the Gulf of Finland and on December 14 returned to the outfitting wall of the Baltic Shipyard.
The test program of the first stage has been successfully worked out: the move from backup diesel generators has been checked, independent speed in 6 units has been achieved. Icebreaker communications, navigation and home systems have also been shown to be successful.
- stated in the press service, adding that the next phase of testing will begin next year.
Earlier it was reported that the first stage of testing the icebreaker "Artika" will be held in emergency mode, without the use of a nuclear reactor. The reactor will be launched after the end of the first stage of testing; the icebreaker will enter the second stage already at the main propulsion system.
The Arctic nuclear icebreaker is the lead ship of the 22220 project in a series of three vessels being built at the Baltic Shipyard in St. Petersburg under a contract with Rosatom. The end of the tests and the transfer to the customer is scheduled for May 2020 of the year.
A feature of the 22220 project icebreakers is the use of variable draft using ballast tanks. Double-deck ships can operate both in deep water and in shallow water in river beds, overcoming ice up to 3-meters thick without losing speed. According to project data, new icebreakers will become the largest and most powerful in the world.
The main power plant of icebreakers includes two "Rhythm-200" reactors with thermal capacity of 175 MW each. Its main advantage over other similar installations lies in its compactness and economy, as well as energy-efficient integrated layout.