The Turkish army will soon receive a new unmanned shock unmanned quadcopter Songar. The first batch of armed drones is preparing for delivery to the troops.
Turkish Armed Forces are preparing to adopt the new unmanned quadcopter Songar manufactured by the Turkish company ASİSGUARD. The Songar strike drone was first shown at the 14 International Defense Industry Exhibition IDEF-2019 in Istanbul.
The drone is equipped with a rifle
weapons
(assault rifle, machine gun) and is capable of dropping small bombs. Declares the development of a variant with an 40-mm grenade launcher. For aiming, the drone uses data from sensors, cameras and a laser rangefinder, and a special design on which a machine gun is mounted is able to minimize recoil after a shot.
The drone has passed a series of trials recognized as successful. During the tests, the drone aimed fire from a distance of 60, 100 and 150 meters. Currently, work is underway with the sights of the drone, after which the drone will be able to hit targets from a distance of 450 meters.
The drone weighs 55 pounds (almost 25 kg), range - 10 miles (16 km), flight altitude - 9200 feet (2,8 km). The drone is equipped with a day / night camera, which transmits real-time video, providing damage assessment after the drone carries out an attack. It can use both American GPS and Russian GLONASS navigation systems.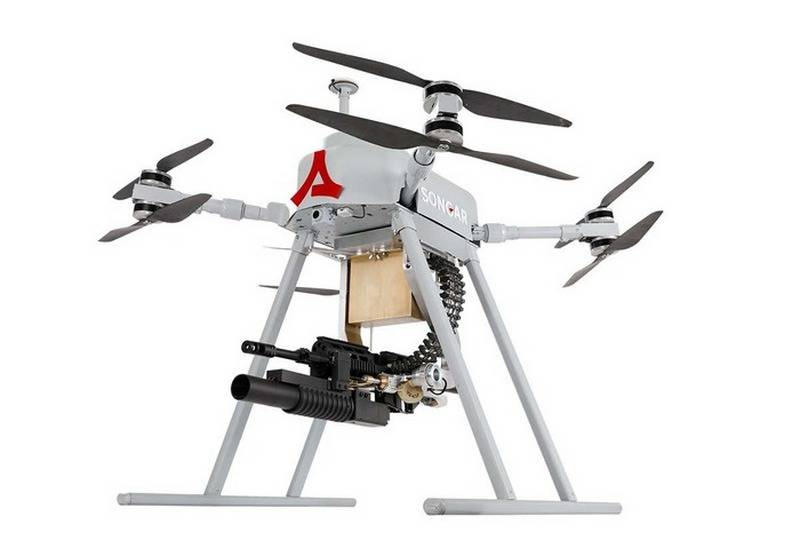 The drone is controlled by the operator using a special remote control. It is stated that from one remote control it is possible to control several drones at once.