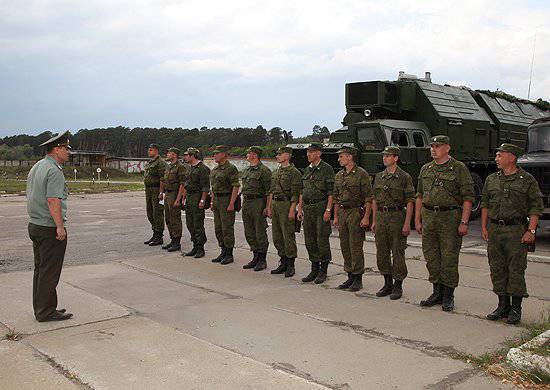 On the basis of the Teikov missile compound (Ivanovo region), a three-day training and methodological gathering began with the management team of the engineering services of the RVSN associations, formations and institutions.
According to the Office of the Press Service and Information of the Defense Ministry of the Russian Federation, training and methodological gatherings under the direction of Colonel Dmitry Yevmenenko, Chief of the Engineering Service of the Strategic Missile Forces, are being studied to study the control and combat use of the engineering units of the Strategic Missile Forces at various stages of combat operations technology entering the Strategic Missile Forces.
To achieve this goal, a set of instructor-methodical and demonstration classes on the organization of engineering support in the military units of the Strategic Missile Forces, the study and application of engineering equipment of the units, storage and maintenance of engineering equipment, testing of engineering support measures during combat operations will be held with participants in the training camps - conducting engineering reconnaissance of the routes of the columns of motor vehicles for mining, the organization of combat protection of the Strategic Missile Forces, ernaya training ground patrol routes.
Particular attention during the collection will be given to the study of new weapons entering the Strategic Missile Forces, including the engineering support and camouflage machine (MIOM), which has no analogues in the Russian Armed Forces and is part of the Yars mobile ground-based missile system. MIOM is designed to perform such tasks as engineering reconnaissance of combat patrol routes and field positions, including an assessment of the bearing capacity of soil foundations, determination of the load-carrying capacity of road bridges using the latest measurement system (the uniqueness of the system is that with the highest accuracy the possibility of passing the unit by measuring the angle of inclination of the beams), checking the dimensions of the routes of the routes and platforms. In addition, with the help of MIOM, engineering reconnaissance of mine-explosive obstacles and demining of the terrain is carried out; clearing of roads in field position and their planning, separation of debris. MIOM is also used in the performance of engineering tasks of camouflage and imitation, which provide for carrying out activities to hide and simulate the missile complex at field positions, distort the tracks of the units of the complex immediately after they are occupied by rocket divisions, including rolling tracks to false positions and objects. slope of the terrain and the location of the units using the navigation system. During the course of the lesson, the participants will be clearly demonstrated all the possibilities of MIOM.
The delivery of the MIOM to the RVSN is fully completed at the Teikov missile compound. These machines will also go to the Irkutsk and Novosibirsk missile formations in the course of their upgrading to new missile systems, the press service and information department of the Russian Defense Ministry said.