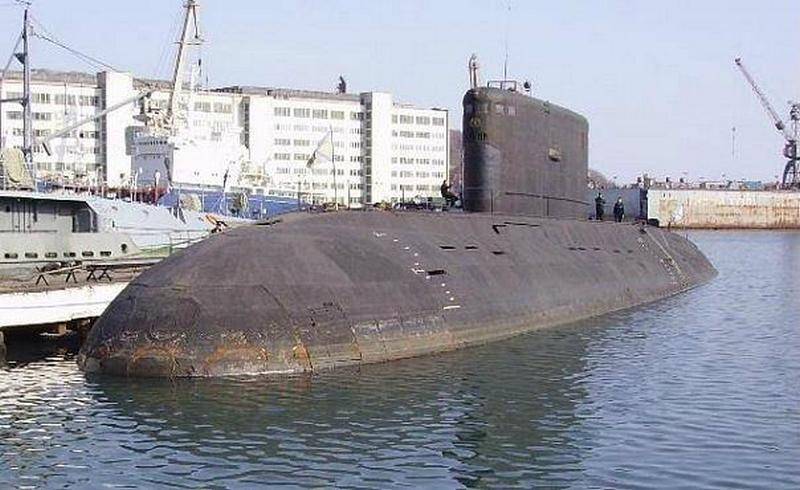 Submarine B-260 "Chita" of the project 877 "Halibut" in the sludge 2014 year
In the Primorsky Territory, when being towed for disposal, a submarine withdrawn from the Pacific
fleet
, no casualties or pollution. This was reported by the press service of Rosmorrechflot.
According to a report, the submarine, which was sailing in tow for disposal at the Ascona metal processing plant, partially landed on the ground aft near Nakhodka in the Sea of ​​Japan, 6 miles from Vostok Bay. The crew on the submarine was absent, the submarine was towed without fuel.
In the evening of December 11, the 72-meter submarine of the Pacific Fleet, while towing, lay aft on the ground and began to sink in Vostok Bay. The nose is above the water. The towing vessel "Lapis Lazuli" is nearby at anchor. There is no fuel in the submarine, no pollution, no crew on it, no injuries
- said in a statement.
Currently, the issue of attracting additional rescue equipment to raise the submarine and continue towing is being decided.
According to the press service of the Pacific Fleet, the hull of the B-260 Chita diesel-electric submarine of the 877 Halibus project, which has been part of the Pacific Fleet since 1982, partially sank. The submarine from the 2013 year was in a sludge, decommissioned and the composition of the fleet in the 2016 year. Partial flooding is caused by bad weather.