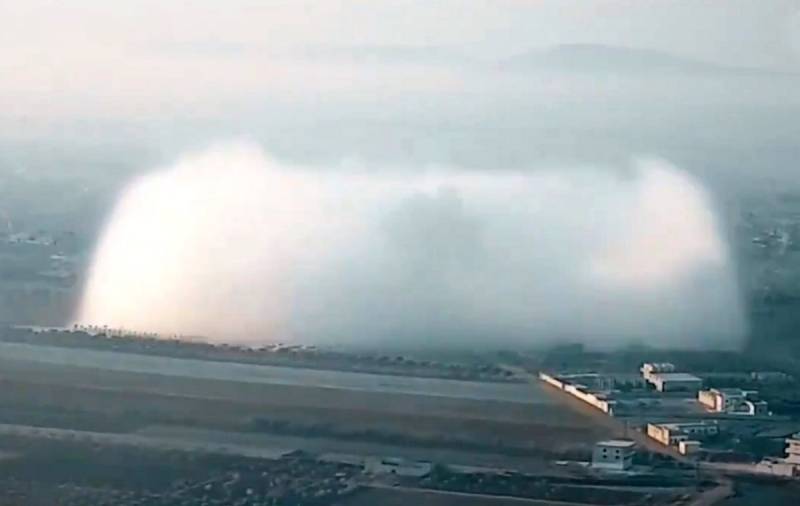 A short video appeared on the network demonstrating the action
aviation
the bombs. Those who published the video on social networks declare that we can talk about the use of the ODAB-500P air bomb. It is alleged that the bomb was used in Syria.
Recall that earlier in the network it was reported that against the objects of terrorist infrastructure and manpower of terrorists in the Syrian Arab Republic, the ODAB were used, for example, using supersonic strategic bombers Tu-160. With their help, objects, military equipment, which were controlled by militants of the ISIS terrorist group (* banned in Russia), were destroyed. How this information corresponded to reality is an open question.
ODAB-500P (volume-detonating bomb) is used at carrier speeds of up to 1100 km / h. In this case, the maximum discharge height is up to 1 km. The radius of destruction is up to 30 m. The pressure at the epicenter of the explosion of an aerial bomb (at the front of the shock wave) reaches 30 atmospheres. The enemy manpower in this case has no chance.
On the presented frames, which are shot from the air, the epicenter of the explosion and the wave propagation through the territory surrounding the object of the militants are also visible. But whether this effective explosion is an explosion of ODAB-500P - experts argue.
At the same time, critics of the opinion that we are talking about the use of ODAB-500P say that this could be at least detonation when a bomb hits a mined object or an explosion of a car with large volumes of explosives.
It should be noted that in the 2017 year, the American media reported on the use of the US Air Force high-explosive bomb GBU-43 / B. It was stated that this powerful aircraft munition was used in Afghanistan against ISIS * terrorists. Kabul then announced the destruction of a terrorist facility near the Pakistan border. The igilovites themselves claimed that the explosion "did not lead to casualties."