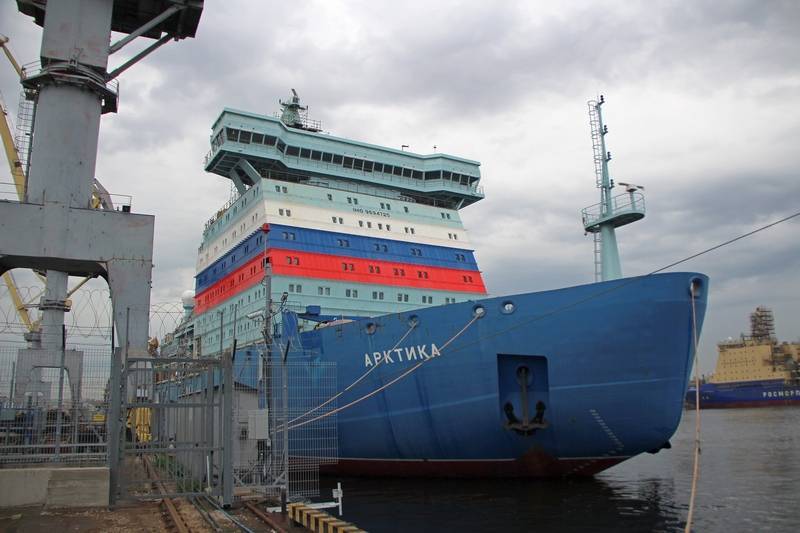 The leading nuclear icebreaker of the 22220 "Arctic" project will go to the factory sea trials on December 12, but in emergency mode. It is reported
Mil.Press FlotProm
with reference to a statement by the general director of the Baltic Plant Alexei Kadilov.
The publication writes that Kadilov, speaking at a press conference on the results of the United Shipbuilding Corporation in 2019, said that factory sea trials of the Arctic icebreaker will begin on schedule, on December 12, but in emergency mode on diesel engines. The nuclear reactor will not be used, it will be prepared for start-up after returning from testing.
We were asked: let's start with diesels, and then we'll launch it. There were a lot of alterations
- cites the publication of the words of the general director of the Baltic Plant.
At the same time, Kadilov said that the icebreaker's readiness at the moment is 95%, its transfer to the customer will take place in 2020 in accordance with the agreement. Previously announced plans for the transfer of the "Arctic" in the spring of next year and the start of operation no earlier than May 2020 year.
The Arctic nuclear-powered icebreaker is the lead ship of the 22220 project in a series of three vessels being built at the Baltic Shipyard in St. Petersburg under a contract with Rosatom. The series also included the Siberia and Ural icebreakers, which were launched and completed afloat. The icebreaker delivery dates are 2021 and 2022 of the year, respectively.
In July of this year, it was decided to extend the 22220 series icebreakers to five ships. The contract for laying the fourth and fifth icebreakers is also concluded with the Baltic Shipyard. The delivery of the first of the new icebreakers laid down is scheduled for December 2024, the second - no later than December 2026.
A feature of the 22220 project icebreakers is the use of variable draft using ballast tanks. Double-deck ships can operate both in deep water and in shallow water in river beds, overcoming ice up to 3-meters thick without losing speed. According to project data, new icebreakers will become the largest and most powerful in the world.
The main power plant of icebreakers includes two "Rhythm-200" reactors with thermal capacity of 175 MW each. Its main advantage over other similar installations lies in its compactness and economy, as well as energy-efficient integrated layout.