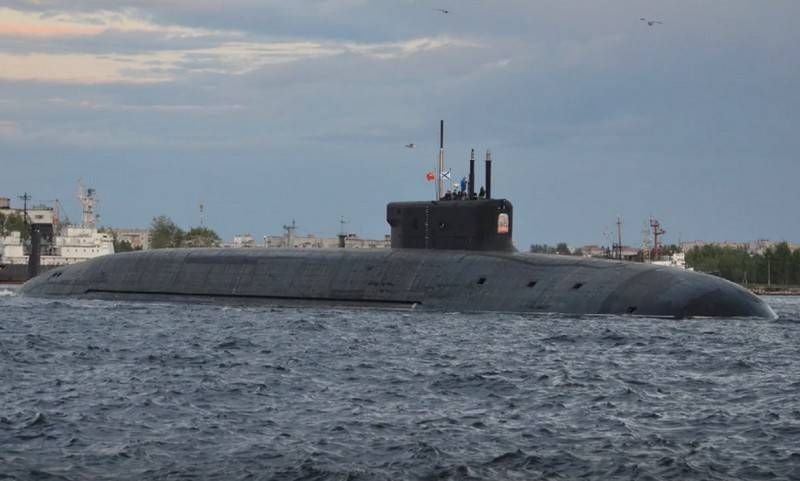 Project 955A nuclear submarine strategic missile cruiser (code Borey-A) Prince Vladimir, who has completed state tests, is located at Sevmash, where he corrects the identified observations. The submarine will be handed over
the fleet
at the end of December. This was announced by the president of the United Shipbuilding Corporation (USC) Alexei Rakhmanov.
According to Rakhmanov, at the present time at the Sevmash they eliminate the comments revealed during the state tests of the submarine cruiser and prepare the submarine for transfer to the Russian Navy.
Sevmash "completed state tests and eliminates comments, and I hope to hand over the submarine cruiser" Prince Vladimir "
- he said.
According to the commander of the Northern Fleet, Vice Admiral Alexander Moiseev, the transfer of the APKSN "Prince Vladimir" to the Navy "will take place under the Christmas tree," that is, at the end of December this year. The submarine will serve in the Northern Fleet.
Strategic nuclear project "Prince Vladimir" of the modified 955A Borey-A project was laid down at Sevmash in Severodvinsk on 30 on July 2012 of the year, and the conclusion from the workshop took place on November 17 of 2017 of the year. The Borey-A project is distinguished by less noise, more advanced systems of maneuvering and retention at depth, as well as control
weapons
.
At present, four more serial ARPXNs of this 955 project are being built at Sevmash: Prince Oleg (officially laid on July 27 2014), Generalissimus Suvorov (laid on December 26 2014 of the year), Emperor Alexander III (laid on December 18 2015) year) and "Prince Pozharsky" (founded December 23 2016 of the year).
Currently, the Navy is serving three nuclear missile submarines of the 955 (Borey) project of the 4 generation — the strategic missile cruisers Yuri Dolgoruky, Alexander Nevsky and Vladimir Monomakh.