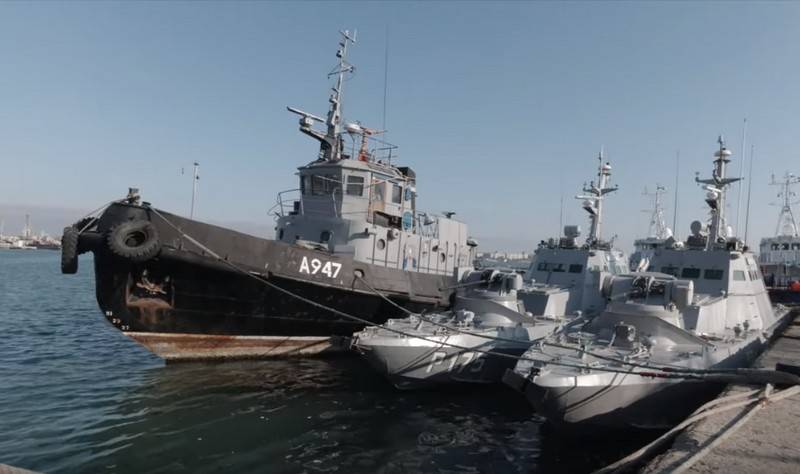 Boats transferred by Russia to Ukraine, detained after a provocation in the Kerch Strait, will be part of the new surface forces division formed in the Sea of ​​Azov. It is reported by the Ukrainian militaristic portal.
The Commander of the Navy of Ukraine Igor Voronchenko, speaking at the ceremonial presentation of the new small armored boat Kostopol, said that the Ukrainian fleet had decided to form a new surface forces division in the Sea of ​​Azov, which would also include two armored boats Berdyansk and Nikopol, returned by Russia. The connection will be based in the ports of Berdyansk and Mariupol. At the moment, it includes the search and rescue ship Donbass, the tugboat Korets and two small armored artillery boats - Lubny and Kremenchug.
According to the plans of the Navy, the connection will be strengthened by the introduction of new ships, the first of which will be the small artillery armored boats Berdyansk and Nikopol, as well as the tugboat Yana Kapu, which are currently in the port of Ochakov, where they were towed after transfers by Russia.
At the same time, Voronchenko did not explain how Ukraine intended to deliver the boats and tugboat to the Sea of ​​Azov, whether there would be another provocation involving the same ships, or whether Kiev would prefer to go through the Kerch Strait in accordance with the established rules, taking on board a Russian pilot. Also, the option is not excluded that the above boats and tugboats will be delivered to Azov by land, as Kiev has such an experience.