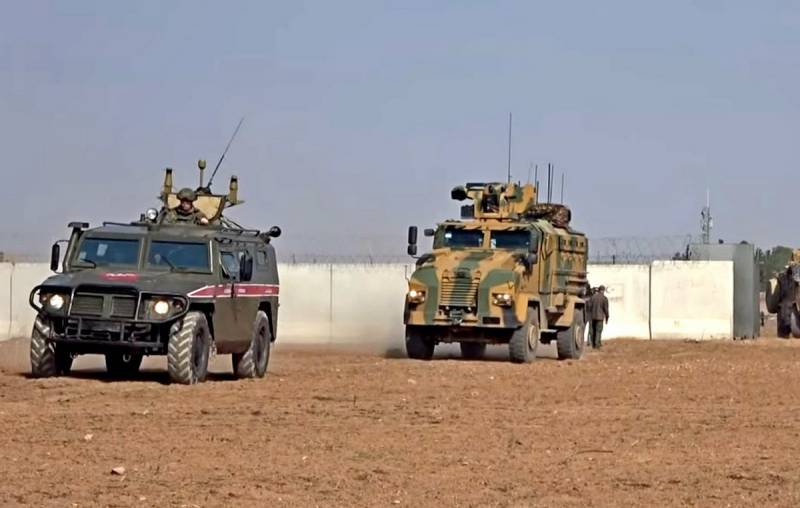 Russia and Turkey jointly controlled the withdrawal of troops from the M-4 highway in Syria, which divided the positions of the Turkish troops and the Syrian government army in the north of the country. This was reported by the Russian Ministry of Defense.
Representatives of the command of the Russian grouping of forces in Syria, together with the head of the coordination center, Turkish Armed Forces Division General Erkhan Uzun, conducted a joint trip along the M-4 Hasek-Aleppo highway, which today is the separation line between Turkish and Syrian government forces. The joint patrol proceeded along the highway from the village of Ain Iss to the village of Tell Tamera.
As the Russian military department explained, the main purpose of the trip is to consolidate the agreements reached during the signing of the Russian-Turkish memorandum, signed on October 22 in Sochi.
During the trip, the parties controlled the withdrawal of troops from the highway, determined the locations of Turkish and Syrian military posts that will control the route. In addition, the Russian and Turkish military checked the clearance of elevators in the Aliyah and Tel-Tamer districts, as well as the launch of an electrical substation in the area of ​​the Mabruk refugee camp, located in northern Syria between the cities of Ras al-Ain and Tell al-Abyad.
The Russian Ministry of Defense reported that following the trip, both sides were completely satisfied with the implementation of the agreements reached.
Meanwhile, on December 7, a joint patrol of the Russian military police and Turkish border guards completed the 14 joint patrol from the crossing point of Deirun Aga to the village of Dzhillik in northeastern Syria.
The patrol included eight units of military equipment - Tiger armored vehicles and BTR-80 armored personnel carriers of the Russian military police, as well as Kirpi armored vehicles of the Turkish border service and about 50 troops of both states. From the air, patrol armored cars were covered by helicopters of the Russian Aerospace Forces based on the new air base in El-Kamyshly. Intelligence along the route was conducted by the Russian Orlan-10 UAV.