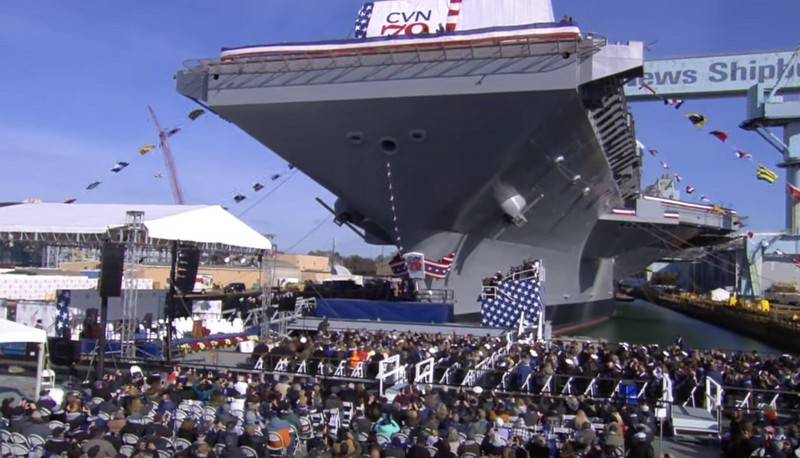 The newest American aircraft carrier of the type Gerald R. Ford - USS John F. Kennedy (CVN 79) - officially launched and passed the baptism ceremony. This was reported by the press service of the company Huntington Ingalls Industries, HII, carrying out the construction of the ship.
Aircraft carrier John F. Kennedy officially launched on December 7 at the HII Newport News Shipbuilding in Newport News, Virginia. The godmother of the ship was the daughter of US President John F. Kennedy, Caroline Kennedy
- said in a statement.
The ship's launching process at the shipyard began on October 30, starting to fill up the dry dock with the aircraft carrier under construction. A few days later the ship was transferred to the other side of the shipyard, where he expected a baptism ceremony, after which his official launch was announced. Now the aircraft carrier will be completed afloat.
The ceremony of the official laying of the aircraft carrier was 22 August 2015 of the year, although in fact its construction was launched in December 2010 of the year, and the first steel cutting ceremony was held 25 February 2011 of the year.
Aircraft carrier John F. Kennedy is the second in a series of ten ships of the type Gerald R. Ford. New nuclear carriers should replace Nimitz ships in the U.S. Navy, which have been in operation since 1975. Transfer it
the fleet
it is planned for 2022, and commissioning is planned for 2024.
New aircraft carriers have a length of 337 m, maximum width - 78 m, displacement - about 100 000 tons. According to the declared characteristics, they can carry airplanes of up to 90 planes and helicopters. They plan to deploy F-35, F / A-18E / F Super Hornet, EA-18G Growler airplanes, as well as MH-60R / S helicopters.