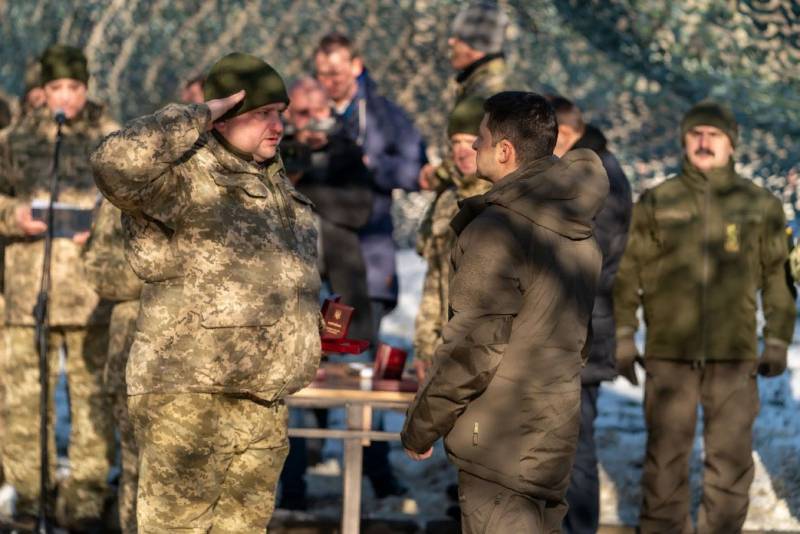 The President of Ukraine on the day of the country's armed forces decided to visit Donbass. At the same time, the Ukrainian Supreme Commander arrived, as they say, not empty-handed. He decided to reward servicemen with medals and titles, and to assign honorary titles to individual units.
One of the first to receive a new military rank was Chief of the General Staff of the Armed Forces of Ukraine, Ruslan Khomchak. Vladimir Zelensky decided that for Khomchak, the title of colonel general would be a suitable title. The Ukrainian media joked about this: "Soon - to field marshals."
If we talk about honorary names for military units, then the 19-I missile brigade of the Armed Forces began to be called the "brigade of St. Barbara." Colonel Fedor Yaroshevich received the ribbon to the banner of the brigade.
The 201-th anti-aircraft missile brigade of the Ukrainian Air Force, by decision of Zelensky, is now called the "Hetman Brig Philip Orlik". Colonel Valentin Petrushenko received the tape with this text.
The 73-th naval center of special forces of the MTR of the Armed Forces of Ukraine is now called the "center named after the ataman Golovaty."
And the 46th OSB of the 54th separate mechanized brigade of the Armed Forces from Zelensky was called Donbass. Recall that previously such a name was "reserved" for the so-called "good work" of Semyon Semenchenko.
It is worth paying attention that the Supreme Commander of the Armed Forces of Ukraine was present at the presentation of awards and ribbons without a headdress.