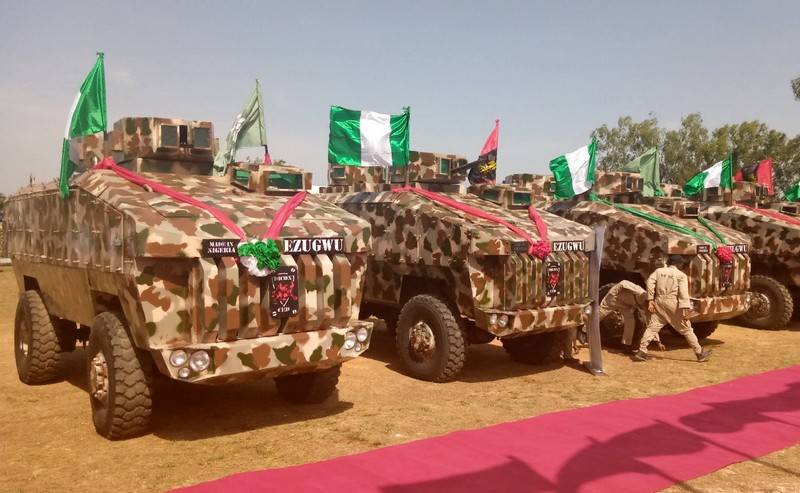 The Nigerian Armed Forces have adopted the Ezugwu (Mountain) vehicles designed and manufactured in Nigeria armored. The ceremonial transfer of armored cars to representatives of the national army was held in the presence of President Mohammad Bukhari.
The armored car Ezugwu (Mountain) 4X4 was developed by the Nigerian state corporation Defense Industries Corporation of Nigeria (DICON). The car was named in honor of Major General Victor Ezugwu, known for his efforts in the fight against the banned extremist organization Boko Haram.
The armored car belongs to the class of MRAP, that is, equipment resistant to the destructive effects of mines. According to the declared characteristics, it is able to withstand the explosion of 12 kg of explosive under the wheels and 6,75 kg under the bottom of the armored housing. Has an independent suspension. It is assumed that the armored car is created on the Tatra 4 × 4 chassis.
The DICON corporation, which developed this armored car, stated that its height is 2 meters 63 cm. It is equipped with a diesel engine with 615 horsepower (according to other sources - a Chinese-made turbocharged WD615 diesel engine with Chinese power), which allows transportation from 380 to 12 landing personnel (not specified, with or without a crew). It has two turrets rotating at 16 degrees with an installed 360-mm DShK machine gun and an 12,7-mm machine gun. The armored car is equipped with thermal imagers and a system of all-round cameras.
It is reported that the Nigerian armed forces intend to acquire up to 130 armored vehicles Ezugwu.