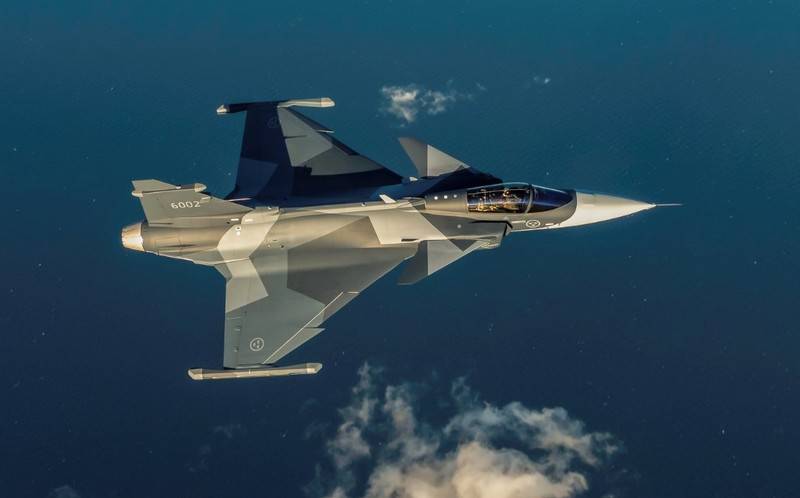 The first Swedish-built serial fighter Saab JAS-39E Gripen NG
The first production fighter JAS-39E Gripen NG, built for the Swedish Air Force, made its first flight. By the end of the year, the fighter will be handed over for state testing. This was reported by the bmpd blog, citing the press service of the Swedish group Saab AB.
The first flight of the first production JAS-39E Gripen NG for the Swedish Air Force took place on December 3 of this year. The fighter received a new gray three-tone "broken" camouflage scheme. After a series of flights, he will be handed over to the Swedish defense procurement agency Försvarets materielverk (FMV) for state testing.
This is the second serial fighter JAS-39E Gripen NG, assembled in Linkoping, the first was a fighter JAS-39E, assembled for the Brazilian Air Force. His first flight was 26 on August this year.
In total, the Swedish Saab AB group of companies will build 96 new JAS-39E Gripen NG fighters under two contracts at once. The Brazilian Air Force ordered 36 Gripen fighters: 28 single-seat Gripen E aircraft and eight two-seat Gripen F. Thirteen fighters will be manufactured at the headquarters in Sweden Linkoping, eight machine kits will be manufactured in Sweden, but assembled in Brazil, and the latest 15 fighters will be built in Brazil with zero. Aircraft delivery will begin no earlier than 2021 of the year and should end by 2024.
In the version for Brazil, Gripen E fighters received a dashboard with a central widescreen information display, two auxiliary small information displays and an updated display system on the windshield. Improved flight control system software has also been installed.
For the Swedish Air Force, 60 JAS-39E Gripen NG single-seat fighters will be built with an option for another ten aircraft, not yet approved. Aircraft delivery should be completed by the 2027 year.
JAS 39 Gripen is a fourth-generation Swedish multipurpose fighter developed by SAAB in the 80s. The abbreviation JAS stands for Jakt - fighter, Attack - attack aircraft, Spaning - scout. The first model of the fighter (Gripen A) was adopted by the Swedish Air Force in 1997 year.