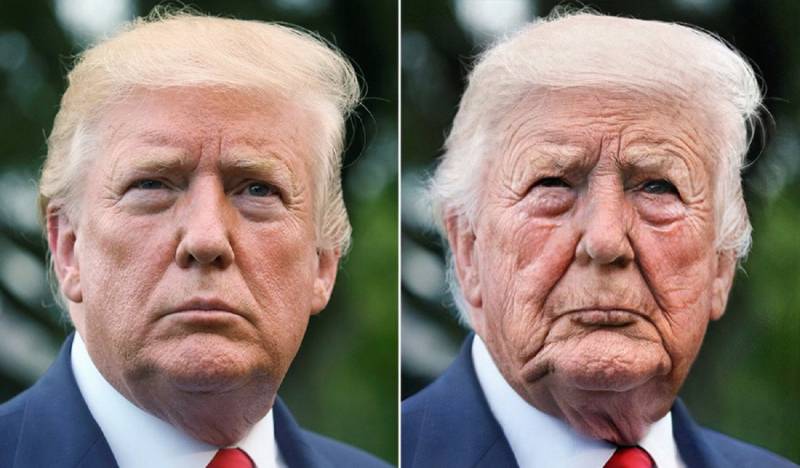 Do we stop Americans from spitting in our soup?
The US Federal Bureau of Investigation believes that any software developed in Russia poses a potential "counterintelligence threat". The term itself, by the way, deserves a separate consideration, but more on that below. In the meantime, we note that the FBI's opinion was not expressed in ordinary conversation, even if senior officials of the department, but in the official response of the department to the no less official request of the Democratic leader in the US Senate.
This request was caused by the sensational FaceApp application, developed by Russian programmers, who skillfully (and still knows how) to transform people's faces in various ways. A person (or rather, his photo) using very advanced algorithms can be artificially aged, rejuvenated, made smiling or gloomy, or even forced to change sex. It would seem that an ordinary electronic toy, the fashion for which will pass as suddenly as it started. But no, in the USA they took care that the application has access to photos on the user's smartphone, and decided that in this way the Russian special services can steal the secrets of the stronghold of democracy.
In principle, if US intelligence agents are in the habit of photographing pages of secret documents, ciphers of secret codes of government communications, drawings of military equipment, then such fears may indeed prove reasonable. True, even in this case there is one small "but": how many employees will need to be hired and trained by the Foreign Intelligence Service of Russia, so that among the many millions of daily incoming photos to select those that are at least of some interest to the special services? But the Americans probably know better ...
But, as noted above, we are now talking about the fact that Russian programs and applications have some kind of "counterintelligence threat". That is, what is it? With these applications, are we stopping Americans from carrying out intelligence operations against Russia? The classic "guard, these evil Russians again prevent us from spitting on them in borsch"? Just the word "counterintelligence" does not leave too wide a field for interpretations - it turns out that they are spying, and we somehow threaten this.
There are no complaints about the programs, but ...
Okay, let's write it off on the complexity of the translation, although sources like Russia Today have never had much difficulty with English. In any case, it is rather a psychological nuance, albeit eloquent.
But there are others. Let me remind you that the sharp concern of Americans with the functionality of Russian software appeared after the Crimean events and the introduction of anti-Russian sanctions. Surely many people remember that at first Kaspersky Lab, the largest Russian software producer, fell under the "distribution". Then, almost by order of magnitude, the American government agencies that massively used the antiviruses of this company recommended switching to software from other, not Russian, manufacturers.
Knowing the scrupulousness of Americans in matters of national security, one wonders a simple question: why did the Russian manufacturer's antiviruses not cause any complaints to the FBI before? And there is only one reasonable answer to it: but they simply did not pose any threat. But the political situation changed, even the appearance of partnership disappeared, the Kremlin no longer wanted to play according to American geopolitical rules, and the threat was instantly revealed ...
Moreover, if you look at what American experts say about this, it turns out that even now they do not have direct evidence of the maliciousness of programs developed by Russian programmers. Yes, you heard right: there are no complaints about the programs themselves. But our overseas friends are embarrassed that the program servers are located in Russia, and the developers too. So, it is potentially easier for Russian special services to access these products and user data.
And if so, programs can be declared unreliable, potentially dangerous and try to ruin their reputation. What is now being done with enviable persistence.
It should be noted that the export of Russian software is growing quite rapidly. So, according to the report of the non-profit partnership "Russoft" for the 2018 year, the growth of foreign sales of domestic software amounted to 16,6% and reached in absolute terms 8,8 billion dollars. According to some estimates, it even exceeded 10 billion dollars - a good indicator for a "gas station country." Russian service companies in the IT industry took 8 places in the top-100, our developers traditionally held high positions in the field of information security.
And this, we note, a few years after the introduction of anti-Russian sanctions, despite the waves of anti-Russian hysteria, periodically overwhelming the Western media. Earlier, in 2015 and 2016, the industry also experienced growth by 11-12% - slightly lower, but still very good, agree. And it is entirely possible that it was this stable growth that attracted the attention of our "partners".
Murphy's Law Freedom
Alas, we must state: the Russian IT industry is now in a very difficult position. The fact is that the demand for software in Russia itself is still lower than outside. Accordingly, domestic companies receive the lion's share of their profits from exports. If the total turnover of domestic software companies in 2018 was estimated at approximately 16,87 billion dollars, then export, as noted above, accounted for about 10 billion. Accordingly, the separation of our companies from foreign markets will hit them very hard and become extremely painful.
I would venture to suggest that this is the main goal of our dear overseas friends. No, not competition - at this stage we are still too weak to confront American IT giants like Microsoft or Google, although it's better to stifle competitors in the bud, it's true. Rather, this is another opportunity to hit Russia, and the Americans simply could not miss it.
Probably many people know about Murphy's playful law. In a free translation, it sounds something like this: "If some kind of trouble can happen, it certainly happens." Probably, in modern politics, his rephrased version is used: "If you can, without risking much, make some muck of Russia, then it will certainly be done."
This is exactly what we are observing with the example of quite dubious accusations made against Russian software. To impose sanctions on Russian software manufacturers is quite problematic: the WTO, retaliatory sanctions, a possible blow to American software companies in Russia. At the same time, to observe how, despite pressure in Russia, the industry, which is important for its security and sovereignty, is developing quite actively, it is simply unbearable.
Therefore, probably, the path of persecution, unproven, but loud accusations, slander was chosen. Moreover, in the USA there are enough forces that will gladly support this game. Including the Senate Democrats and the FBI.
So everything, alas, is natural. As they say, both cheap and cheerful. There are accusations, they sound quite seriously for the layman, and no punishment is foreseen for them. The fact that these accusations have never been proven has no interest in anyone at all: chasing an ordinary American, one should not be distracted by such trifles as facts.