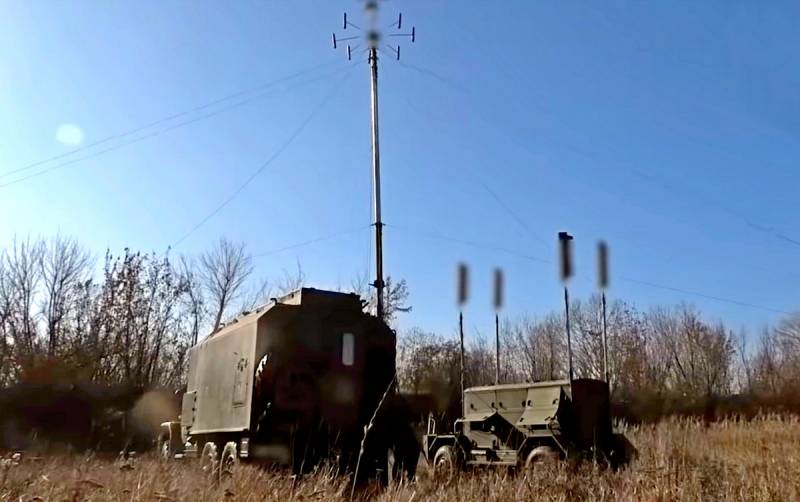 LDNR received new electronic warfare
In early December, the republican media published information that the 1 and 2 LDNR army corps received the latest Chameleon electronic warfare systems manufactured at the Topaz Donetsk plant.
According to widespread information, the plant, which previously produced the E-mail "Kolchuga" and "Kolchuga-M", the rep "Mandat" and other defense products, did not stop its work in the 2015 year, as Ukrainian media reported. The company continued its activities, the result of which was, in particular, the development of new small-sized mobile electronic intelligence and suppression systems "Chameleon" capable of detecting and suppressing signals from portable radio stations.
Also, according to the information of the People's Militia Directorate, at the "Topaz" over the years the Terrikon M2N complex was developed, which also entered service.
Tests of the Triton automated jamming station, which is able to detect and suppress satellite and cellular mobile stations, are being tested.
Ukraine is indignant
The information was indirectly confirmed in Ukraine. 3 December, the representative of the Ukrainian Ministry of Defense, Colonel Dmitry Gutsulyak called the news about the new developments of the Topaz plant disinformation, which is designed to hide the fact that the people's police used various electronic warfare and suppression tools provided by Russia.
Ukrainian activists and military in social networks appreciated the work of the new republican electronic warfare. According to their version, the new technique is capable, in particular, of reading any information from mobile instant messengers. As evidence, the fact of mass receipt by Ukrainian servicemen on the demarcation line of messages with a propaganda text and a proposal to add
weapon
and give up.
Is there any difference?
In 2014-2015, the Ukrainian media wrote that the Topaz plant was stopped and its equipment was exported to Russia. The director of the enterprise, Yuri Ryabkin, who had fled to Ukraine, complained that the Mandate complex and many other values ​​that the "fighters" had plundered or destroyed fell into the hands of the "aggressor". Apparently, the military plant still survived.
It is noteworthy that Ryabkin himself admitted that the vast majority of staff remained in Donetsk. Apparently, the leadership and administrative workers mainly left for Ukraine.
Frankly speaking, the fighters of the people's militia themselves have absolutely no difference where exactly the equipment was produced, which makes it possible to obtain valuable intelligence information, land enemy drones and cause other troubles to the enemy.
Previously, information about miraculous devices that could actively intercept enemy negotiations or interrupt them was really circulating among the military personnel. Now this information has received official confirmation, which allows us to believe in other "entertaining
stories
»On the use by the LNR armed forces of high-tech equipment that makes it possible to rout the enemy in separate sections of the demarcation line.