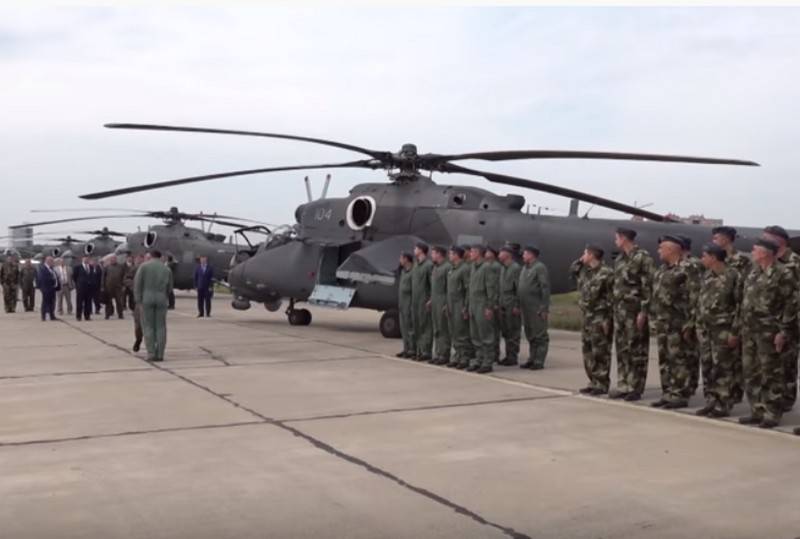 Serbian military at the Rostvertol plant in Rostov-on-Don August 2019
The Serbian Ministry of Defense received four Russian Mi-35M helicopters. On December 2, helicopters landed safely at the airfield of the Batainitsa military base near Belgrade. This was reported by the Serbian portal Alo.
Russia delivered four Mi-35M helicopters to Serbia ahead of schedule. Initially, it was reported that the cars would arrive in Serbia during the first quarter of 2020. In total, the Serbian Air Force will include seven Mi-35 helicopters and three Mi-17 helicopters.
Serbian Minister of Defense Alexander Vulin called these Russian helicopters the best in the world in their class. According to Vulin, the Mi-35M is real flying
Tanks
that allow you to reliably protect the Serbian airspace and strengthen the combat potential of the country.
In the near future, the Serbian military is awaiting the arrival in Serbia of the Pantsir-S1 anti-aircraft missile-cannon systems (ZRPK), the supply of which Belgrade has fully paid for. The receipt of equipment should take place at the end of this year - the beginning of next.
In 2018, the Russian Federation transferred six MiG-29 fighters to Serbia, in 2019, Serbia received ten BRDM-2 and, ahead of schedule, three Mi-17В-5 transport helicopters as part of Russian military-technical assistance. It is planned to supply to Serbia 30 T-72 and 20 BRDM-2 combat vehicles.