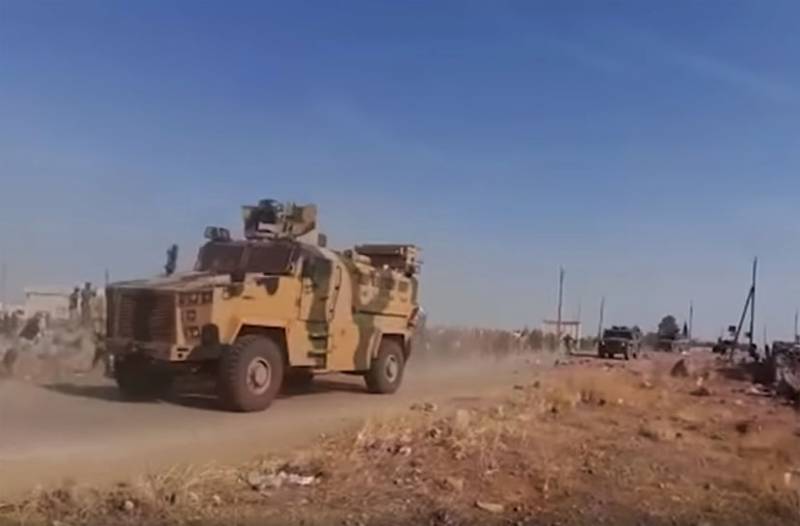 Cadres again come from Syria about the activity of local residents in relation to military patrols in the north of the country. Representatives of the Kurdish population again decided to "unkindly" meet with the joint Russian-Turkish patrol in one of the settlements. The shooting was carried out traditionally - by several representatives of the local population.
This time, the Kurds decided to act selectively, clearly learning to distinguish between the symbols used by the military and technology.
The frames show that the column of the militarized patrol was "met" with worn slippers and stones. But this time, the stones flew exclusively into Turkish armored vehicles. The Kurds missed Russian armored vehicles without attempting to do any damage. The objectives of the attacks were three Turkish armored cars, which moved in the middle of a joint column.
Kurds again cast armored vehicles. Now - with stones and old slippers. But already selectively - only Turkish. # Syria pic.twitter.com/Fdxae9R69M

- Volodin-Topwar (@VolodinTopwar) December 1, 2019
Earlier, the Kurds allowed themselves to attack Russian equipment. For this, in addition to stones, sledgehammers and even Molotov cocktails were used.
Kurdish attacks on military patrol comment on politicians in Turkey. In particular, it is noted that at first the Kurds demonstrate shots with stones casting Turkish armored vehicles, and then they will declare that "one of the cars hit a girl." It should be noted that something like this really happened not so long ago. One of the young local residents, participating in throwing stones at the patrol, then announced that she had "hit a Turkish armored car" on her leg. A report about how her lower limb was bandaged, then all the Kurdish media circled. In Turkey, the incident was commented as follows: "The girl herself stabbed her armored car on the side of the road."