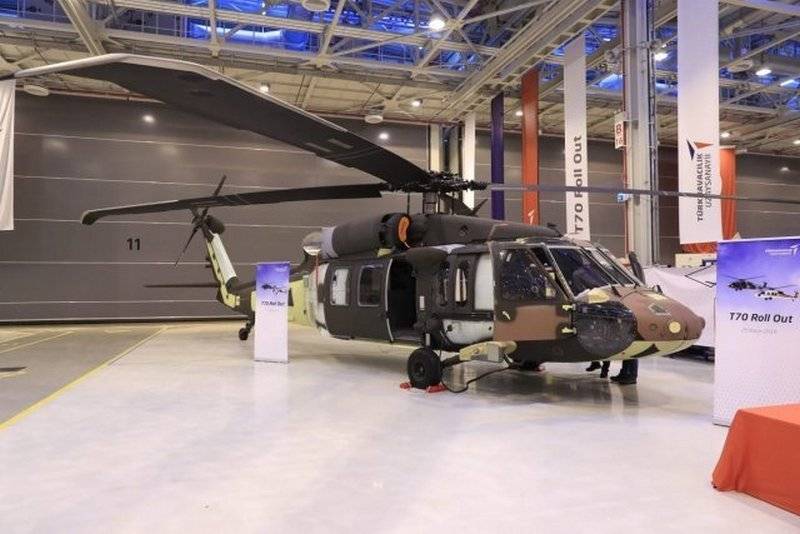 In Turkey, began the assembly of T-70 Black Hawk helicopters. As transmits
"Warspot"
referring to the defenseworld.net portal, Turkish Aerospace solemnly presented the first copy of the helicopter assembled at a Turkish enterprise.
The contract for the production of 109 helicopters worth 3,5 billion dollars was signed by Sikorsky Aircraft and the Ministry of Defense of Turkey in June 2016. In March 2017, the first S-70i Black Hawk helicopter assembled in Poland arrived in Turkey. It was equipped with an integrated Modular Avionics System (IMAS), developed by a consortium of Aselsan, TAI and Sikorsky with the participation of Turkish Air Force specialists. After that, the helicopter received the T-70 index and became the first prototype of a helicopter designed specifically for Turkey.
T-70 Black Hawk has a speed of up to 361 km / h, flight range - up to 2,2 thousand km (with hanging tanks), the mass of the transported cargo - up to 1,2 tons or 11 equipped paratroopers. The helicopter can be equipped with various types of weapons, depending on the modification, including guided and unguided missiles, an automatic gun and a machine gun.
According to the contract, Turkey will release in ten years 109 Black Hawk helicopters modification T-70. Helicopters are planned to be transferred to the ground forces, Navy, Air Force, gendarmerie, as well as special operations forces. Among civilian recipients is the republic's forestry department.
In addition, the contract provides an option for 600 helicopters (cost about 20 billion dollars) with the possibility of delivering cars to third countries.