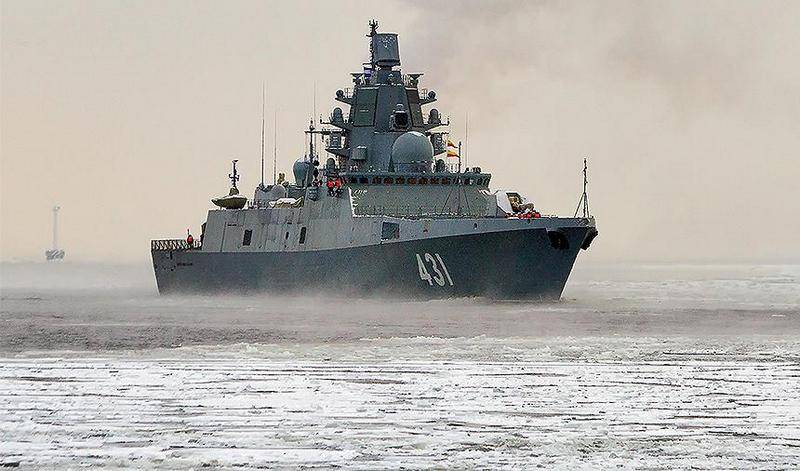 The newest Russian frigate of project 22350 Admiral Kasatonov, as part of the tests, carried out cruise missile fire at sea targets at a sea range in the White Sea. This was reported by the press service of the North
fleet
.
According to the report, the firing was carried out by the Caliber and Onyx cruise missiles. The frigate launched one Caliber and Onyx cruise missile from standard launchers. It is noted that missiles successfully hit sea targets.
The frigate fired cruise missiles at sea targets in the training ranges of the Northern Fleet in the White Sea. Shooting was carried out as part of the next stage of factory sea trials
- said in a statement.
Telemetry of missile flight was recorded by the crew of the Il-20 aircraft, and the target was inspected by the aircraft Il-38 of the Air Force and Air Defense of the Northern Fleet.
Note that the factory sea trials of the frigate began on November 20 in parallel with the state ones. The White Sea Naval Base of the Northern Fleet is engaged in providing tests.
Previously, the ship has already worked out interaction with
aviation
. The frigate's radio equipment was flown over by Su-24 aircraft, Ka-27 and Ka-31 helicopters of the Air Force and Air Defense Forces of the SF. Helicopter pilots also made as many landings and take-offs from the deck of the ship. In addition, the ship was tested for action in the ice. Artillery firing was carried out during the previous test phase taking place in the Baltic Sea.
According to the plans of the North Shipyard manufacturing plant, the frigate will be transferred to the Navy by the end of the year.
The frigate Admiral Kasatonov is the second ship of the 22350 project and the first serial after the lead frigate Admiral Gorshkov. Displacement of 5 thousand tons with a length of 135 m and a width of 16 m. The frigate is able to travel 4500 miles, while developing a speed of up to 29 knots. Autonomy of navigation is 30 days. The crew is from 170 people.
Main power plant: gas turbine engine with a total capacity of 65 thousand liters. pp., diesel generators with a total capacity of 4 thousand kW.
The frigate is armed with: 130-mm A-192 artillery mount, Poliment-Redoubt anti-aircraft missile system, launchers for 16 anti-ship missiles Onyx or Caliber, anti-submarine complex Package, anti-submarine helicopter Ka-27.