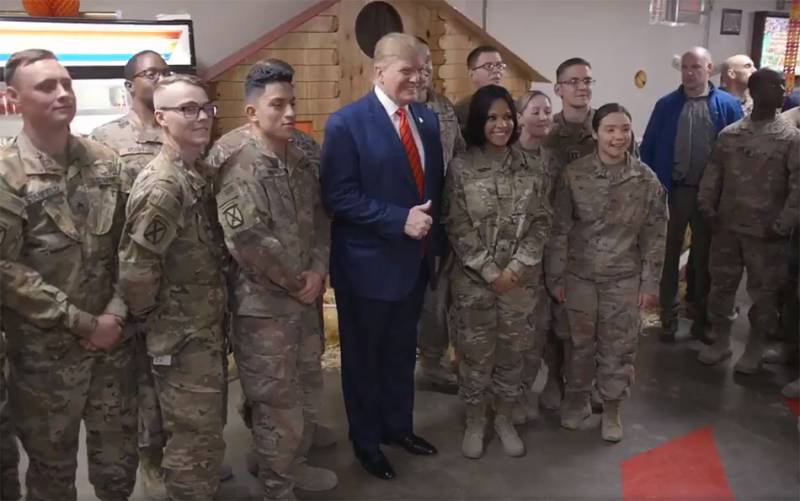 US President Donald Trump arrives on an unannounced visit to Afghanistan. At the same time, according to the tradition that has become customary for American presidents, Trump set the main task of his visit to visit one of the military bases where the American military serve.
In addition, Donald Trump, met with his Afghan counterpart Ashraf Ghani. During the talks, the topic of the activity of the Taliban terrorist group (banned in the Russian Federation) was raised. According to Trump, "they brought to him information about the readiness of the Taliban to conclude a deal with the United States."
Trump:
We'll see if he wraps her up.
Arriving at the military base, Trump congratulated the US military on Thanksgiving, while at the same time thanking them for their service.
President of the U.S.A:
For me there is no place for a better Thanksgiving celebration than this, because here the toughest, strongest and most courageous warriors on earth.
Trump visited a soldier's canteen at a military base in Afghanistan, where he attended a food distribution for some time. Then Trump sat at the same table with the military, asking those who liked the food. The servicemen replied that they were "happy with everything."
During the appearance at the military base, Trump was greeted, as the Soviet announcers said, with "stormy, unceasing applause, turning into a standing ovation":
HAPPY THANKSGIVING! pic.twitter.com/7SGZnHindW

- Donald J. Trump (@ realDonaldTrump) November 28st