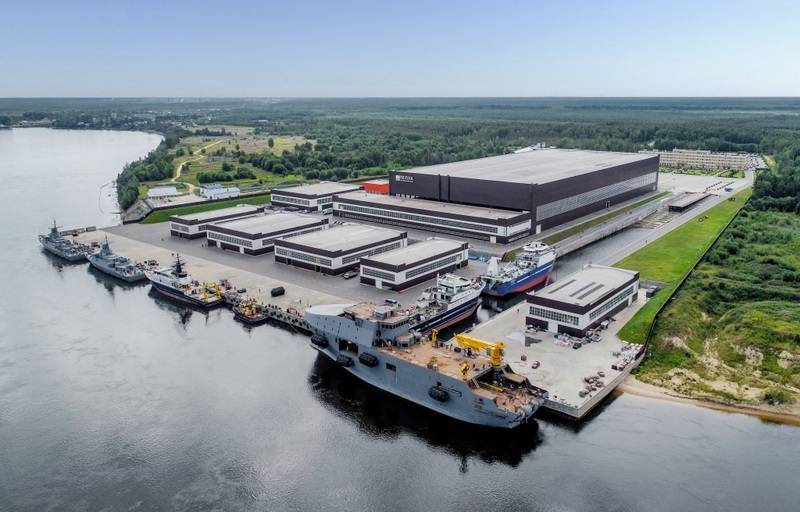 The first phase of the new slipway complex Shipyard "Pella"
In St. Petersburg, another shipyard will soon open. According to the administration, the city is investing in the construction of a new slipway production at the Pella shipbuilding enterprise (Leningrad Shipbuilding Plant Pella OJSC).
According to the Governor of St. Petersburg, Alexander Beglov, this project is important not only for the city, but also for the domestic shipbuilding industry as a whole.
Pella Shipyard began updating its facilities in 2015. In the same year, the first phase of the new slipway production was launched. 4-5 ships up to 70 meters long are produced there annually. With the launch of the second stage, the company will significantly expand its ability to produce high-tech vessels up to 90 meters long. The total number of finished ships will almost double - up to 7-8 units per year.
The launch of the new production is scheduled for 2021 year. According to the bmpd blog, formally it will be located on the territory of the Kolpinsky district of St. Petersburg, and in fact - adjacent to the already existing shipyard "Pella", located on the Leningrad highway in the city of Otradnoye (Leningrad Region).
Note that the shipbuilding company "Pella" produces a wide range of boats, tugs and ships. In the interests of the Navy
fleet
Small ship missiles (RTOs) of project 22800 Karakurt, anti-sabotage boats Grachonok, sea tugs for various purposes, as well as experimental ships and ocean research vessels (GIS) for the GUGI are produced at the Shipyard.