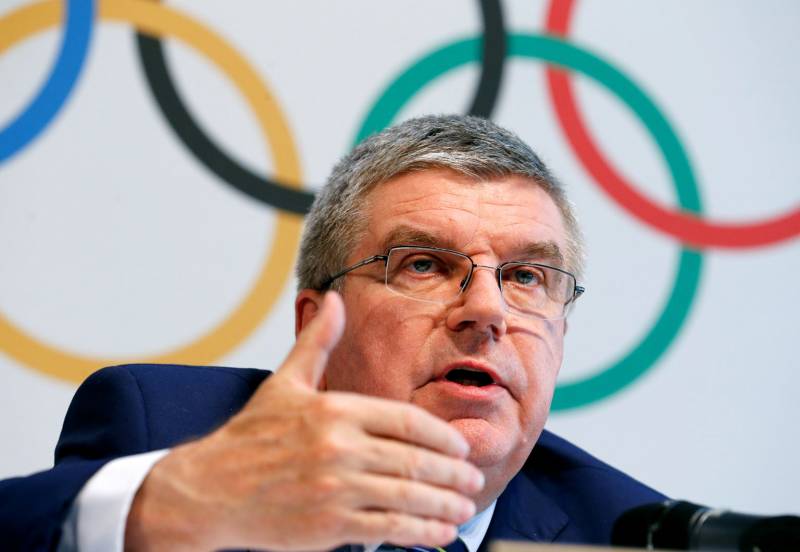 This has never happened before, and here again ...
It is probably hard to believe, but the incredible happened: our "partners" again "threw us". Yes, those same ones, in good suits, expensive shoes, with ties for a thousand dollars and cufflinks for twenty thousand. Refined, refined, somewhere even intelligent. Nevertheless, the genes of slave traders and shopkeepers make themselves felt ...
You guessed it. The point is that the WADA compliance committee recommended that Russia be removed from sporting events for four years. The reason for this recommendation was the alleged corrections in the database of the Moscow Anti-Doping Laboratory. And since there were corrections, it means that they hid something. And if they hid, then they violated. And time ...
In general, the logic is clear and fairly straightforward. And it probably could have been accepted if not for some of the nuances ...
But first, about how events are developing at the moment. This is important in and of itself, and because they literally rushed to jump, although on a superficial glance it seems that everything is going on a knurled track.
So, WADA recommended that the International Olympic Committee remove Russian athletes from international sports. Also among the recommended measures of influence on Russia are the transfer from the Russian Federation of the competitions planned there, sanctions against Russian sports officials, a ban on their appearance at international sports competitions as part of any delegations. However, it was specifically noted that the Russian Anti-Doping Committee did a great job of correcting mistakes, so it was recommended that "pure" athletes from Russia be allowed to compete, but, as you might guess, under a neutral flag.
A special reservation was also made regarding the transfer of planned international starts from Russia. This can and should be done, according to WADA, "if it is possible practically and legally." In addition, it turns out that the WADA "Major Events" wording implies only the largest international starts, such as the Olympic Games and World Championships. Therefore, the holding in St. Petersburg of the matches of the European Football Championship, the finals of European cups and other competitions of comparable status does not seem to be under threat.
The ban is supposed to be made four-year. Accordingly, this will affect the upcoming Summer Olympics in Tokyo and the 2022 Winter Olympics in Beijing. Further, of course, the next procedures, investigations, admission or refusal - this is already at will.
Hope only for the Council of Europe?
The meeting of the Executive Committee of the World Anti-Doping Agency will be held in Paris on December 9. This is likely to be the point of the report of the next anti-Russian sports sanctions. And it seems that nothing can be done about it, though ...
No, I don't have any particular illusions. Moreover, the IOC has already issued a statement in which it warmly endorsed the recommendations of WADA. Everything is in the best traditions there: they supported the "pure athletes", in fact, having promised them participation in the largest international starts under a neutral flag, they condemned the functionaries, and in general agreed.
But some hope is raised by the IOC proposal to transfer WADA materials to the Council of Europe and UNESCO. It would seem that this is so? But not so simple. Both of these organizations have relevant anti-doping conventions in sport. Both have authority that is not comparable to that of WADA. And both, it is very likely that in their conclusions and recommendations they will be guided by the norms of the law.
But with the latter, WADA is bad. Very bad. Some kind of "base" obtained in 2015 from an unnamed source (probably from Rodchenkov, but "possible"), which no one saw in the eyes, no one verified, and the reliability of which initially raises great doubts. In the end, it is logical to assume that if the base obtained through official channels is faked, is it technically possible and could it be faked before? And if so, who will guarantee that the option referred to by the WADA Compliance Committee is not falsified?
Actually, the accusations of falsifying the officially obtained base of the Moscow Anti-Doping Laboratory are based precisely on the fact that the data contained in it do not correspond to the data available in the database in 2015. Therefore, it is supposedly fake. Although, I repeat, the authenticity of the WADA database is not confirmed by anyone at all.
Accordingly, this will be revealed in any unbiased investigation conducted at least at the Council of Europe, at least at UNESCO. Let's be realistic: in this case, the absolute impartiality of these organizations is hard to believe, but still it is better than the current unfounded accusations.
And if so, we can assume that in the IOC itself, not everything is as simple as it sometimes seems. This is partly confirmed in a statement by Linda Helleland, vice president of the World Anti-Doping Agency (WADA). In her opinion, the IOC will resist the removal of Russia from international competitions.
I am afraid that the IOC is opposing us. Many forces and posts will be at stake. 12 people will vote, and I am afraid that we may be in the minority.
Now, following the recommendation of the IOC, to present the materials at the disposal of WADA to representatives of the Council of Europe and UNESCO, it becomes clear that Madame Vice President was somewhat right. And this at the moment looks like a straw for which Russian sport can grasp.
Chef, it's all gone!
At the same time, it should be noted that we are demonstrating complete doom in this regard. All around there is a nagging, sports and para-sporting officials plaintively bleat something about "well, what to do now, they violated", everyone is preparing stoically to take a strict punishment for Russian sports, so long as it does not concern them themselves.
But in reality, we are only to blame for the fact that we allowed ourselves to persuade us to the infamous "deal with the investigation". Then, let me remind you, we agreed to recognize all kinds of "McLaren reports" and other nonsense, which has no legal evidence, in exchange for our participation (under a neutral flag!) At the Olympics in Korea. The result, as you recall, is completely inglorious in a sports sense, but also, as it now turns out, only complicating our life for years to come.
Those who mumbled and bleated about "we all admit, are guilty, we will correct ourselves", and now they occupy high posts. But the result of this bleating was that now we can not protest the reports mentioned, now we really have an official status of anti-doping law violators, now any of our arguments breaks down into reinforced concrete "well, you yourself admitted!"
Alas, it is. Moreover, for all the time I have not seen a single serious counterattack, not a single, relatively speaking, offensive action by Russia. We were circled around the finger, and even made to believe that we had a wonderful time. And we quietly sat in our dark corner, afraid to go out into the world so that we would not be taken away from the latter.
Have a good time. And what to do now? The question is rhetorical. Nothing to do. To drink to the bottom that cup of shame that comrades Mutko and Zhukov presented to us. So or…
No, we can do something. Already not for salvation here and now, but for work in the future. First of all, refuse to buy the broadcast rights of any sports that we will not be allowed to fly under our flag. Yes, this is not such a huge amount of money, of the order of 100 million dollars, but for the IOC, whose budget depends on the sale of rights to broadcast OIs for years to come, this is a fairly tangible amount. Lose 200 millions for two Olympiads in a row - this, believe me, will be very noticeable for sports officials.
In addition, the Russian media could in principle ignore such sporting events. Moreover, there is more shame from them than glory (there is no last one), so why put a fence on the garden?
In any case, I really would not want to see the Korean disgrace again. And it doesn't bother me that our sports "patriots" will immediately run under the wrong flags and begin to pour mud on Russia. Maybe it's for the best, such self-cleaning of the body alone is worth something ...